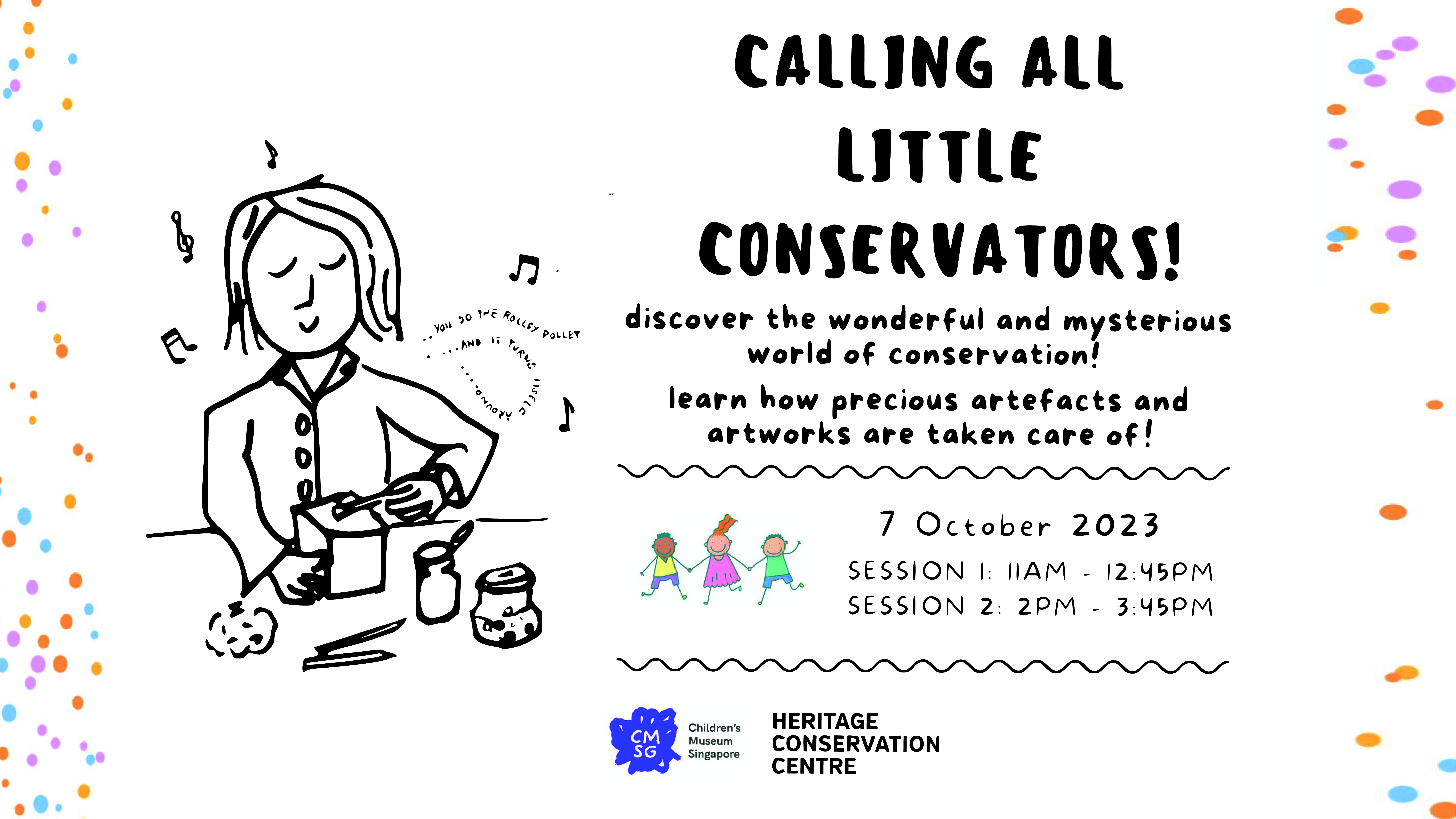 Activities & Events
Calling All Little Conservators!
Date: 7 Oct 2023
You've heard of medical doctors but ever heard of "museum doctors"? They too wear white coats and care for the injured. These "museum doctors" are better known as Conservators and they help keep the collection healthy and get artefacts and artwork exhibition-ready! Try your hand at some common artefact and artwork 'treatments' and learn about this cool and mysterious job from conservators of the Heritage Conservation Centre!
This programme is by Heritage Conservation Centre, in collaboration with Children's Museum Singapore
Duration: This is a facilitated programme of 1 hour. At the end of the programme, there is a free-and-easy museum visit for the remaining 45 minutes duration.
Date: 7 October 2023
Time: 11am – 12:45pm & 2pm – 3:45pm (1 hour: Programme / 45 minutes: Free-and-Easy Museum Visit)
Venue: Children's Museum Singapore – Discovery Room (Level 2)
Recommended Age: 6 – 10 years old
Activity Fee: $15 per child, free for accompanying adult
Advanced registrations required - Register Here (via the "Programmes" tab).
For further enquiries, please email NHB_CMSG_PRG@nhb.gov.sg
Activities might also enjoy
Book Tickets
You can purchase tickets by scanning this QR code with your mobile device or clicking on the button below.
Tickets
Museum Crowd levels
Last Updated: 28 Aug 2020, 4:51:13 PM