Khadijah's Kuah Bamia
Recipes and Stories / January 27, 2022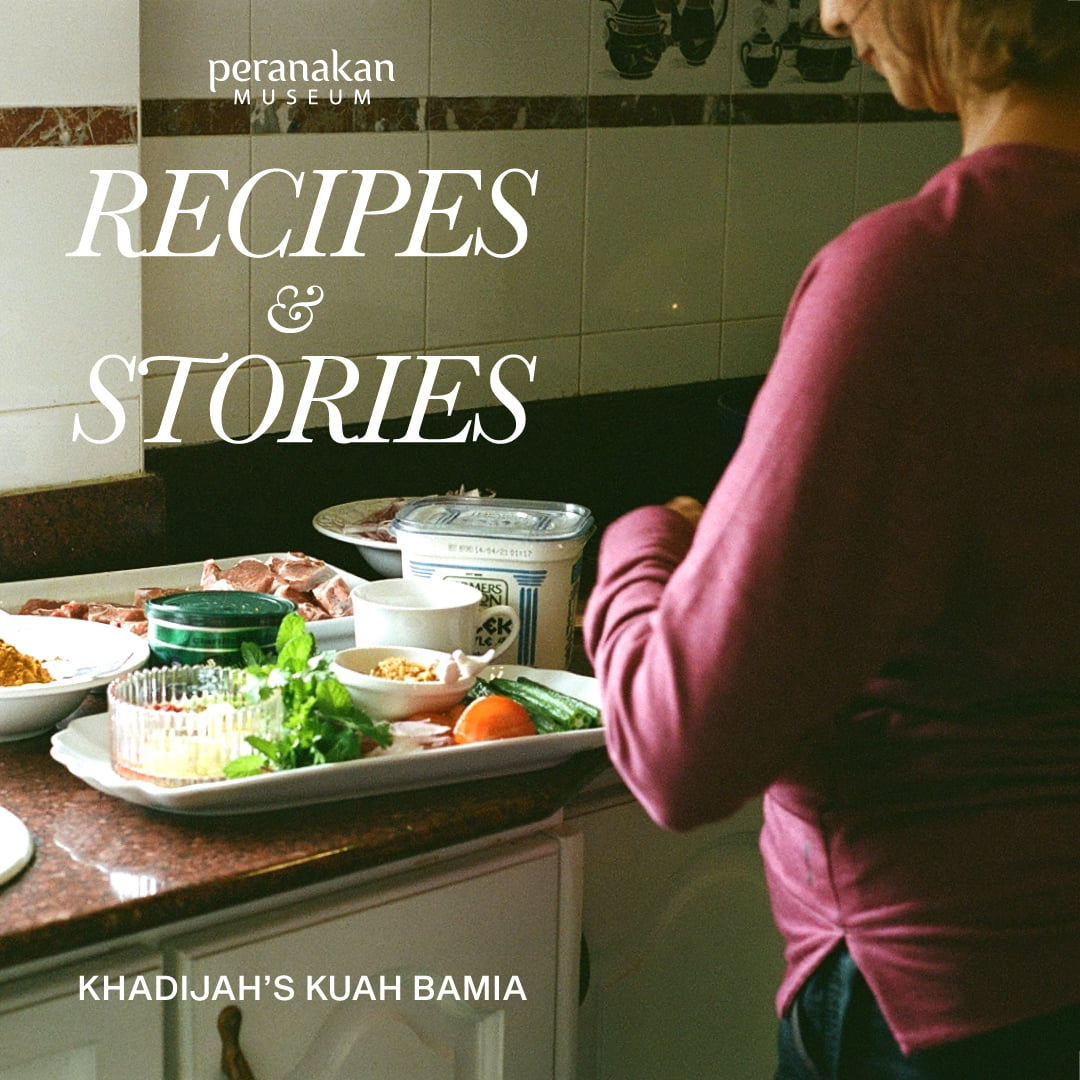 This month, we're sharing a recipe for a traditional lamb stew from Khadijah, a member of the Arab Network @Singapore.
This dish is called "kuah bamia", a lightly spiced tomato-based lamb stew with lady fingers (okra), usually served with rice or bread. The word "kuah" means gravy or sauce in Malay, and is often used in names of stews and curries. It's a traditional dish made by many Arab Peranakan households in Singapore, and this particular recipe has been passed down in Khadijah's family for generations.
Making this dish is a cherished tradition for Khadijah's family and friends during festive occasions. There are many ingredients and steps required, but the end result makes it all worthwhile.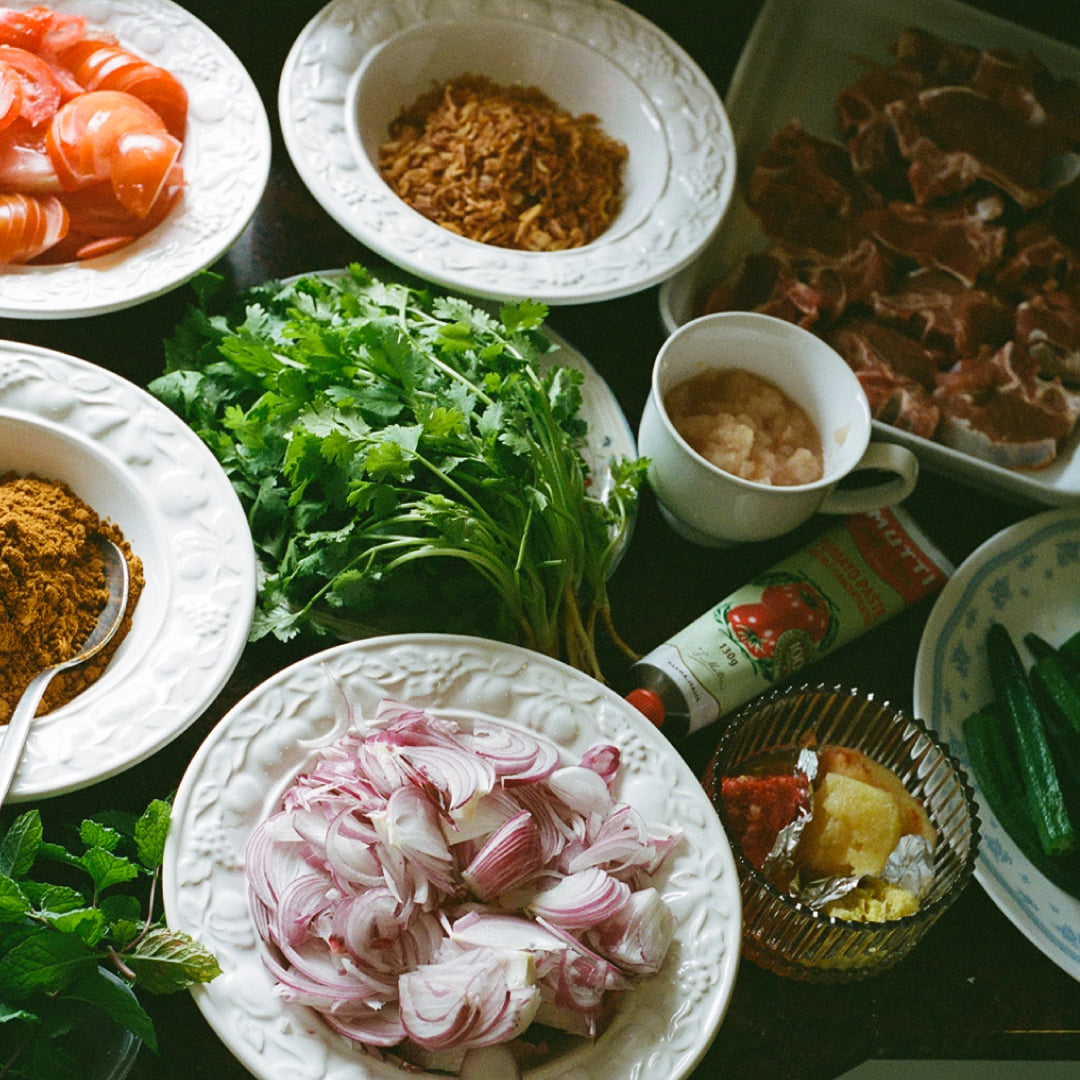 During Ramadan, Khadijah prepares the dish the night before, so they can enjoy it when they break fast in the morning. She also shares that the dish usually tastes better when kept overnight.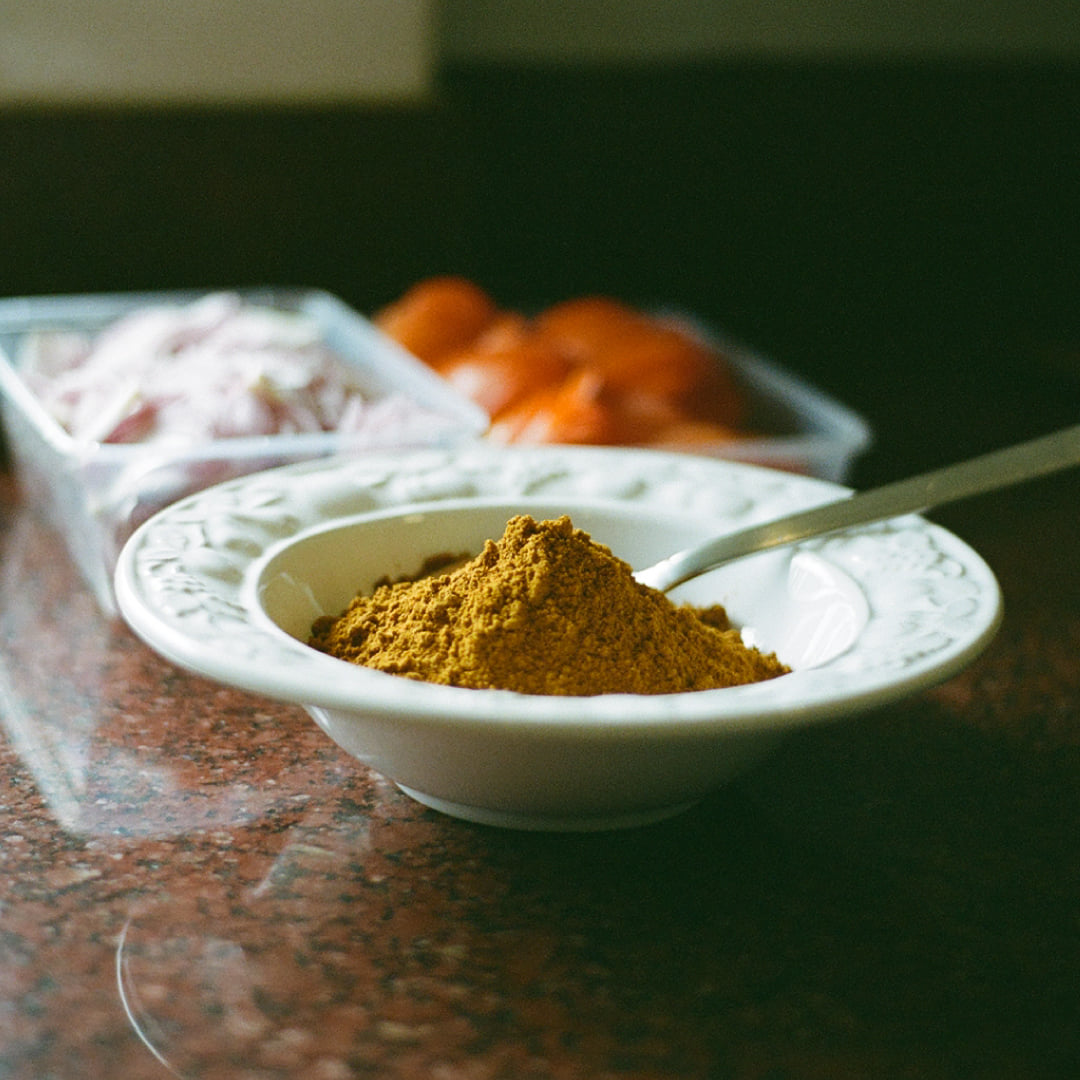 The "rempah makhtoum" (makhtoum spice mix) is a key ingredient in kuah bamia. Khadijah and other members of the Arab Network are currently working to perfect their very own spice mix, part of their goal to bring top-quality spices to consumers. They share that good spices can be kept for a long time (if stored in the freezer), and have the ability to retain their scent and quality even after a year.
This rempah makhtoum is very important and special to Khadijah, as it brings soul and nostalgia to all the dishes she makes. She uses a secret technique to create the spice blend, which was passed down from her grandmother. All the ingredients are carefully selected, and go through a thorough washing process. They get sun-dried, sieved, dry roasted with a special technique, then sent for grinding.
The mix is multi-purpose and can be used in all kinds of dishes. It can be used to marinate meat, added into kofta meatballs, curries, or stews, and even sprinkled onto dishes like shakshuka before serving.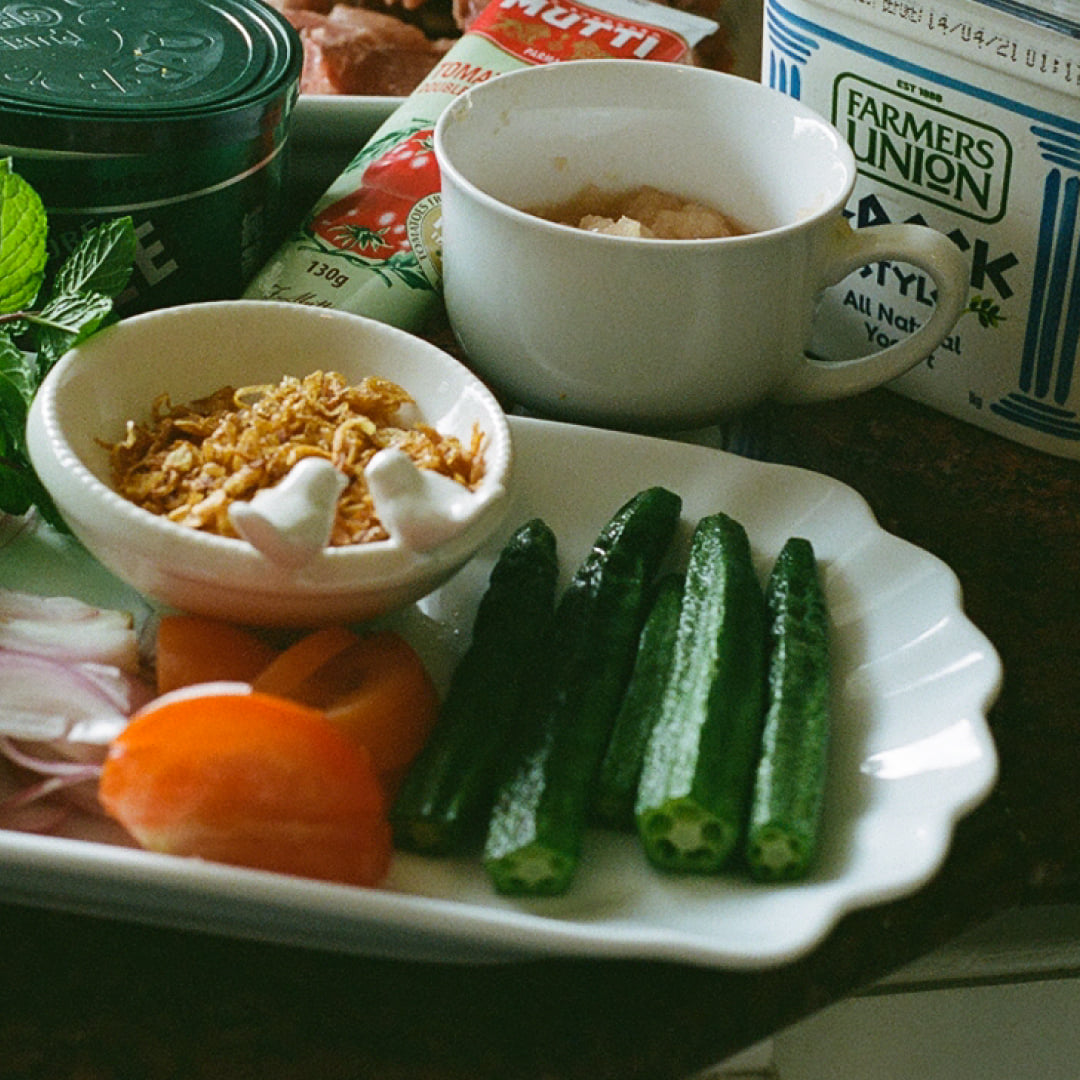 "Bamia" is the Arabic word for lady fingers (okra). They provide a refreshing sweetness and crunch, balancing the strong flavours of the stew. Khadijah recommends using younger lady fingers, as they are less fibrous and more tender than older ones.
The lady fingers are fried separately and added to the stew at the end. When they have shrunk slightly they're done; be careful not to over fry them. You want them to retain their crunch (and moisture inside) while keeping their shape. When cooked for too long, lady fingers tend to break apart and disintegrate.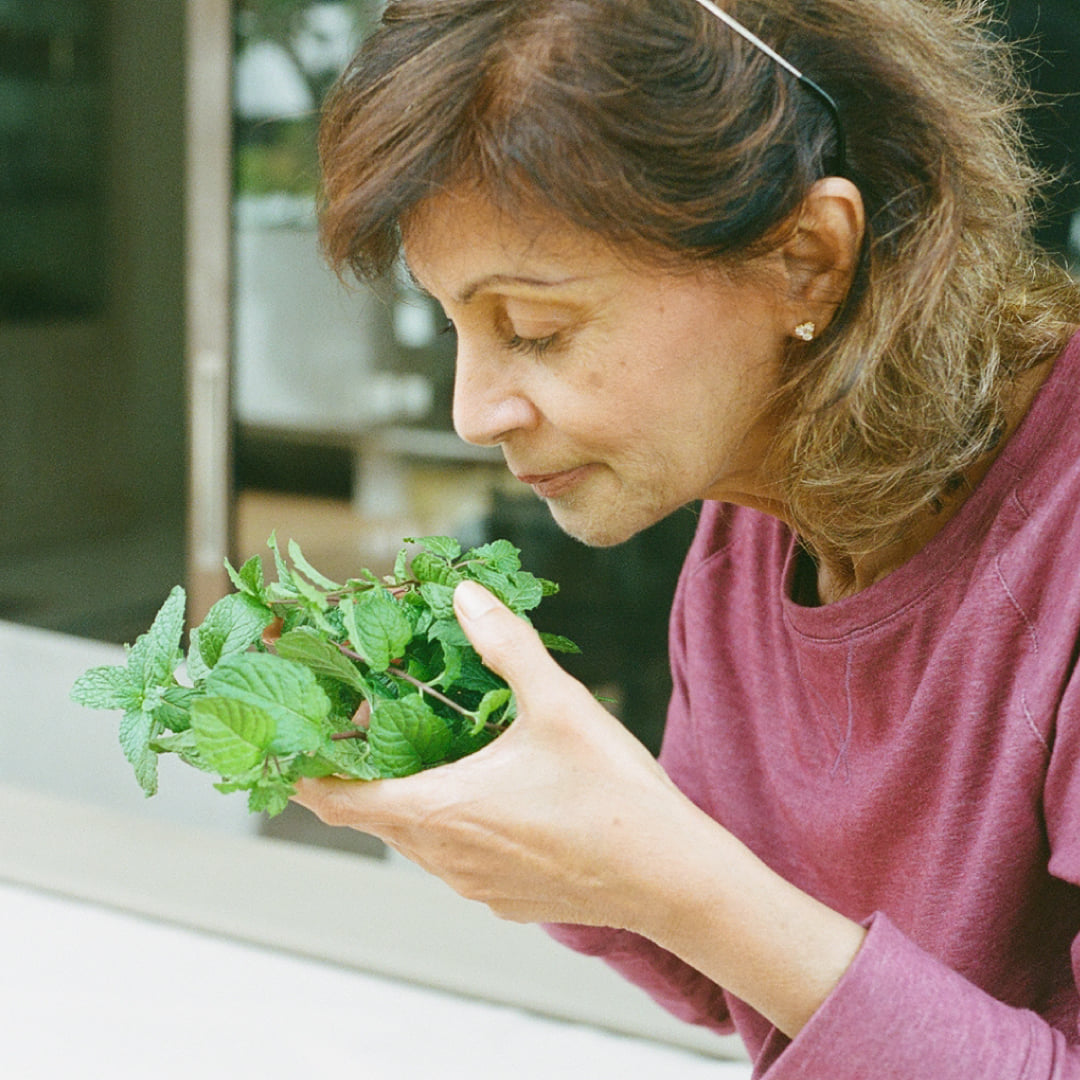 Khadijah grows her own mint and harvests a few sprigs whenever a recipe calls for it. It's a versatile plant that can be used in all kinds of dishes, from desserts to curries. She recommends using older mint leaves for savoury dishes like kuah bamia, as they provide a stronger flavour.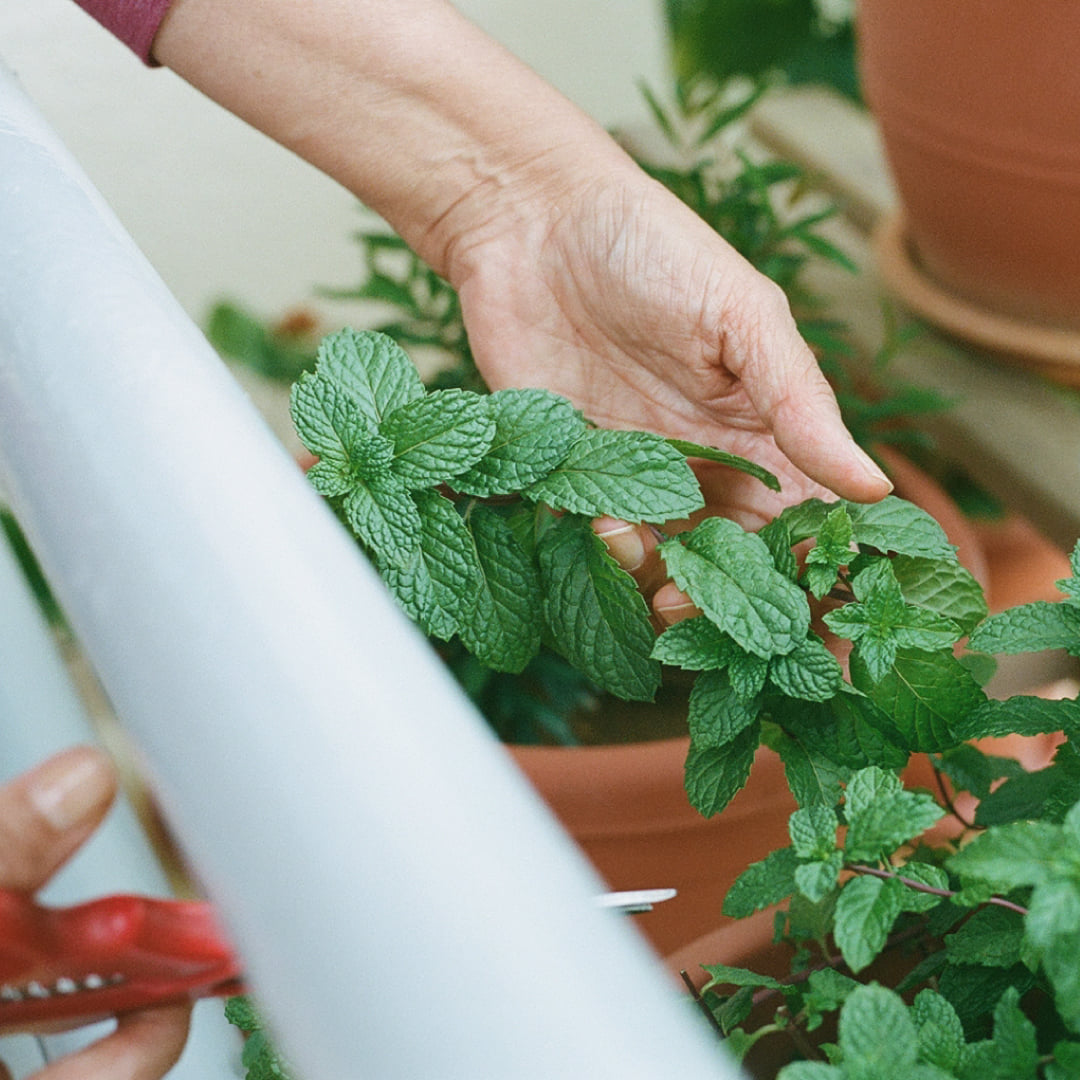 Khadijah uses her mint to make a special green briyani paste, one of her favourite recipes from her mother-in-law. It's made of mint, coriander, green chilli, onion, yogurt, and a bit of oil. This green briyani paste is extremely versatile, and can even be used to marinate meat.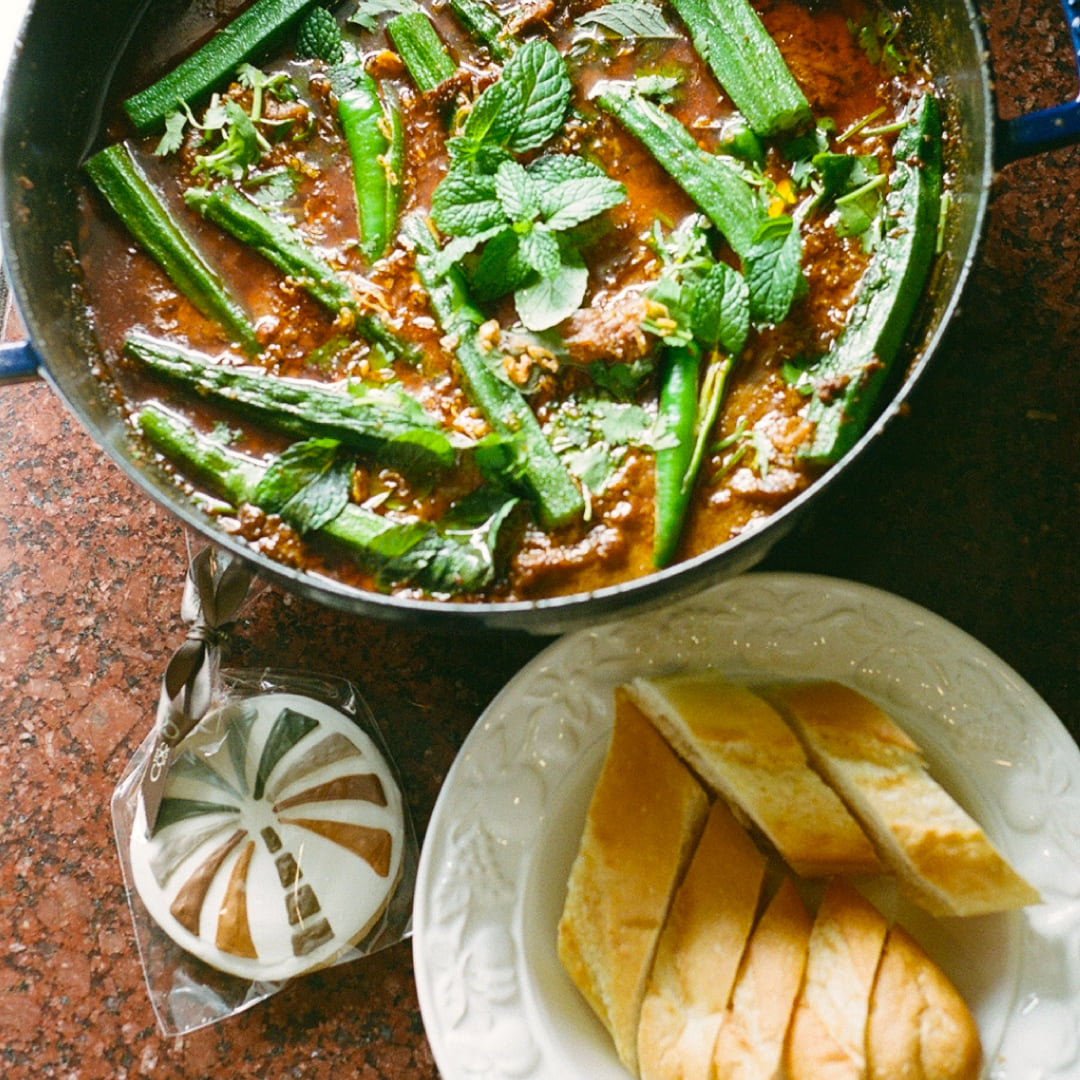 Khadijah's recipes and cooking techniques came from her grandmother, whom she never met. She only got to learn them through her uncle's wife, who learned them from someone who knew Khadijah's grandmother.
Khadijah recalls one of her favourite memories of food was during Ramadan a few years ago – when her husband had just started cooking at home. She remembers being half-awake at 4 or 5 in the morning, smelling her husband's cooking, and, in that moment, thinking she was back in her mother's home! She marvels at the power of scents, how the smell of spice and food can evoke strong feelings of nostalgia and love.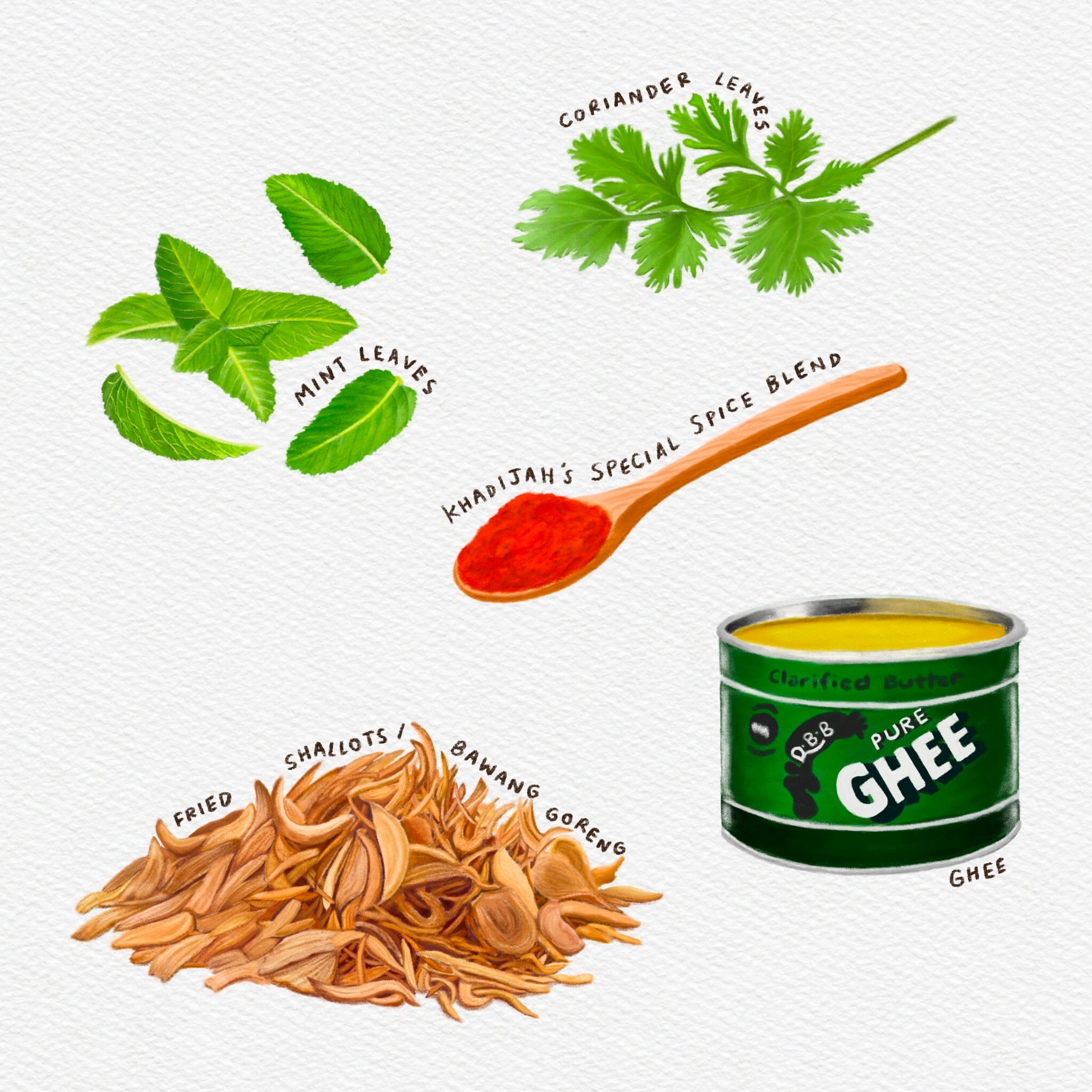 Here is Khadijah's delicious kuah bamia recipe! Don't forget to tag us at @peranakanmuseum if you decide to try your hand at making them!
Ingredients:
1 kg of lamb (Ask for back bone and spine)
2–3 large onions, sliced
2 flat tablespoons of garlic (ground to paste)
1 flat tablespoons of ginger (ground to paste)
3 large tomatoes, sliced
2 heaping tablespoons of tomato puree
4 heaping tablespoons of plain/Greek yogurt
10–12 lady fingers (okra – "bamia" in Arabic)
3–4 green chillies
3–4 heaping tablespoons of fried shallots
2 heaping tablespoons of rempah makhtoum (spice mix)
Bunch of coriander leaves Ghee (to taste)
Steps
Fry lady fingers lightly until soft and leave aside
Saute sliced onions in ghee. Add the garlic and ginger paste and fry until fragrant
Add sliced tomatoes and tomato puree and fry until well mixed
Add makhtoum rempah and saute till fragrant
Add yogurt, followed by the lamb. Mix well and add 2 cups of water (can be reduced or increased depending on preference)
Simmer slowly until almost cooked and add the green chillies, coriander, and fried shallots
Add fried lady fingers into the stew just before serving