Tanya's Pindang Curry
Recipes and Stories / April 18, 2022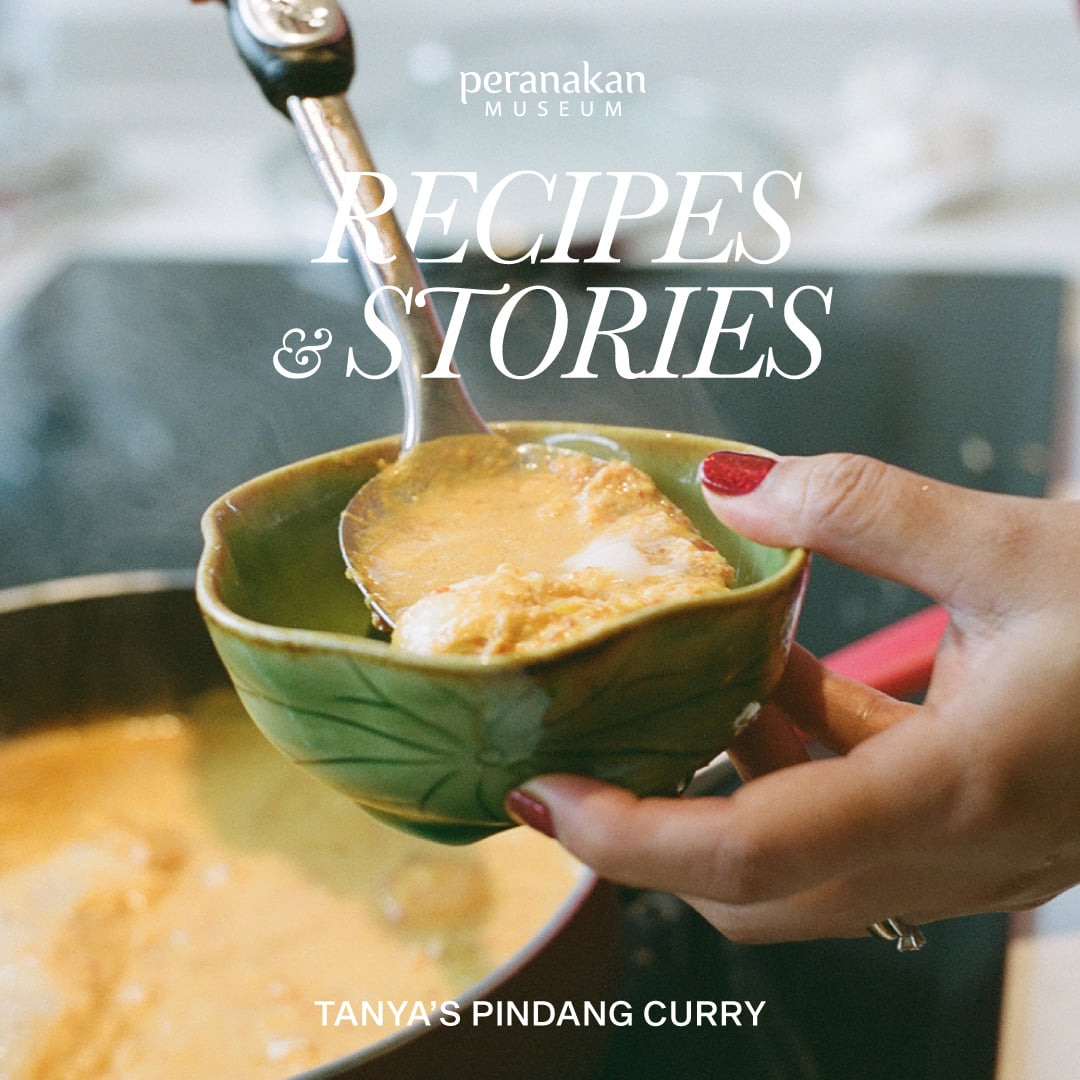 This month, we're sharing a Lauk Pindang recipe by Tanya Pillay-Nair, from the Peranakan Indian (Chitty Melaka) Association Singapore.
Pindang is a dish found in island Southeast Asia that features a broth flavoured with a souring agent such as tamarind. This Chitty Melakan version is made with ikan tenggiri (spanish mackerel), or other seafood, and is an anchor to Tanya and her cousin Krishnan's childhood.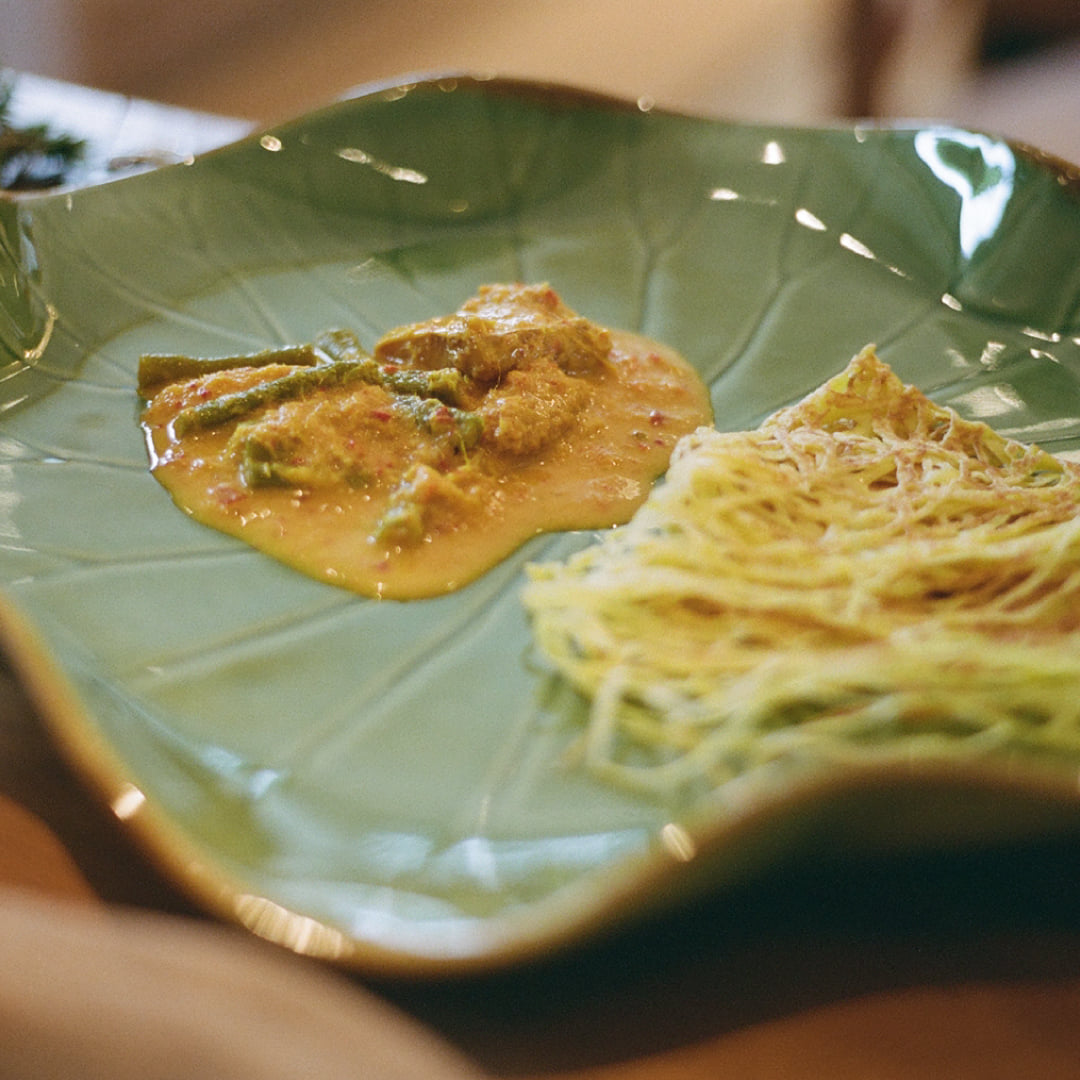 According to Tanya, pindang is a dish that is relatively easy to prepare and it makes an appearance at all their family celebrations. It's made with a rempah, a spice paste comprising lemongrass, shallots, garlic, fresh chillies, turmeric, and chilli paste.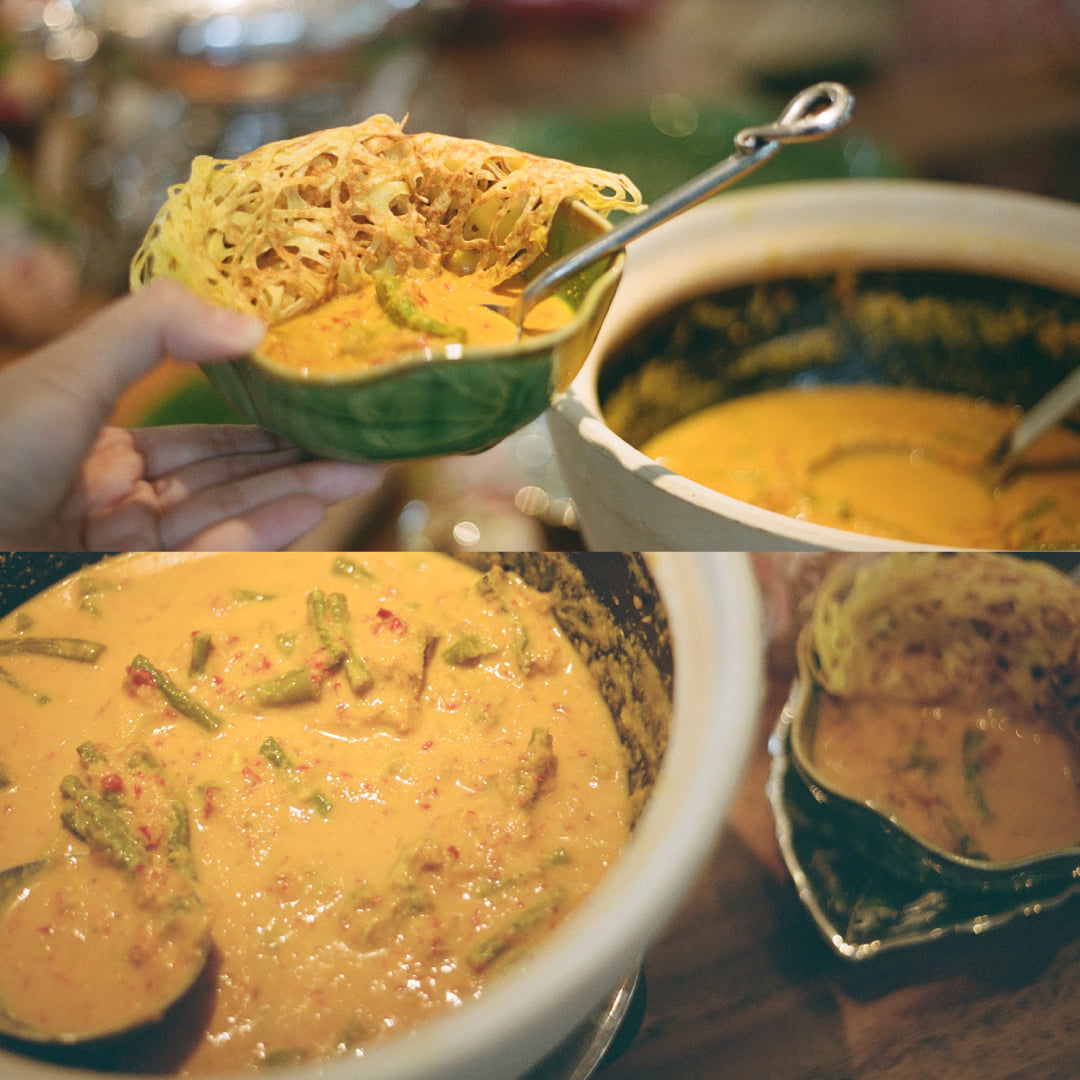 Different households have their own rendition of pindang, using similar ingredients in different ratios. Most rempah is fried, but Tanya stresses that the rempah in her recipe is boiled, added straight into coconut milk.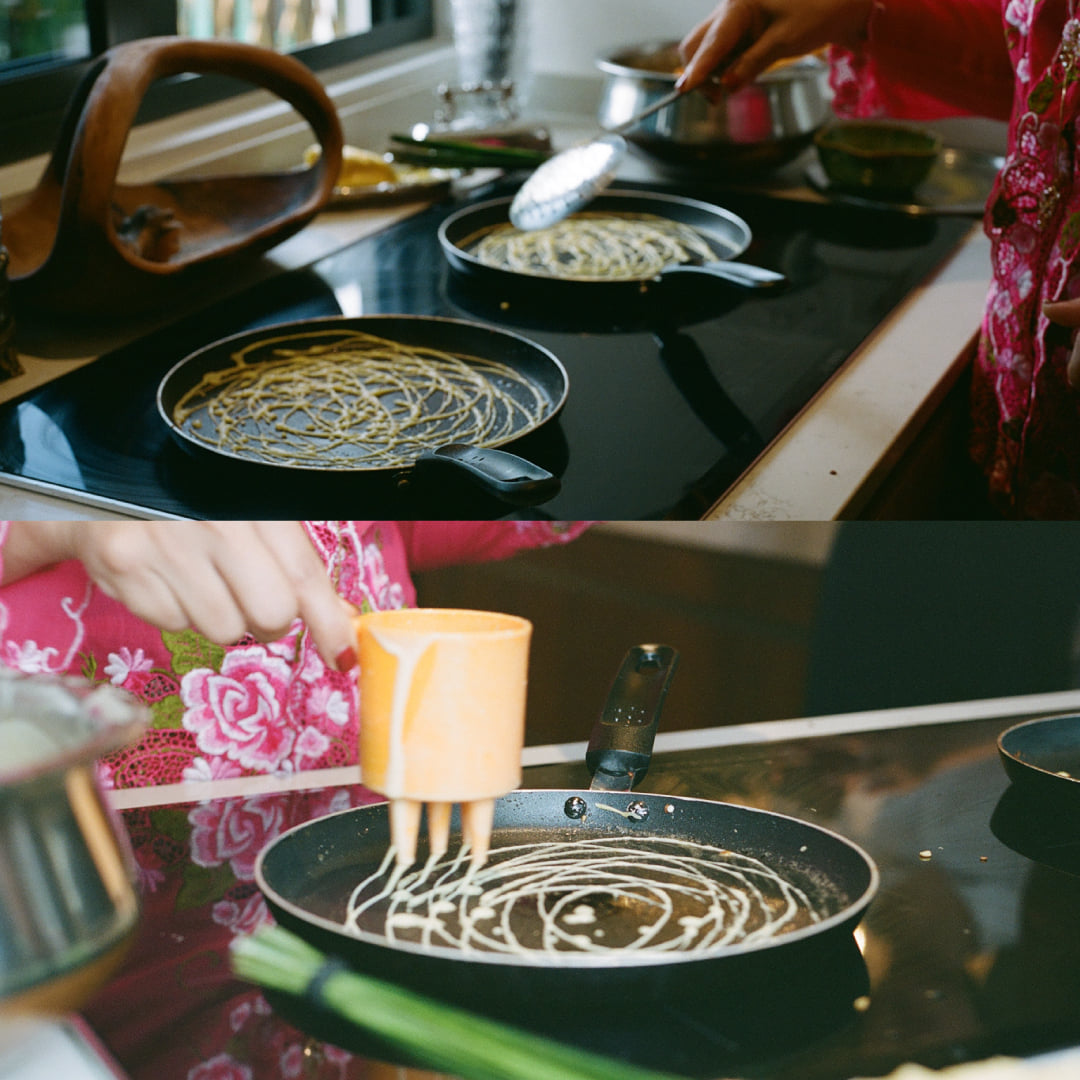 Tanya shares that whenever they have parties or gatherings, roti jala is always served with the lauk pindang . Roti jala is a thin, savoury crepe resembling a lace doily. The word "jala" means "net" in Malay.
Her father is very particular about this dish and insists the roti jala must be made à la minute. He always wants it done there and then – served crispy and hot, alongside the pindang. There's a technique to doing it right that takes practice to perfect. When Tanya was younger, she recalls having to eat all the ugly ones that she made, because they could not be served to guests.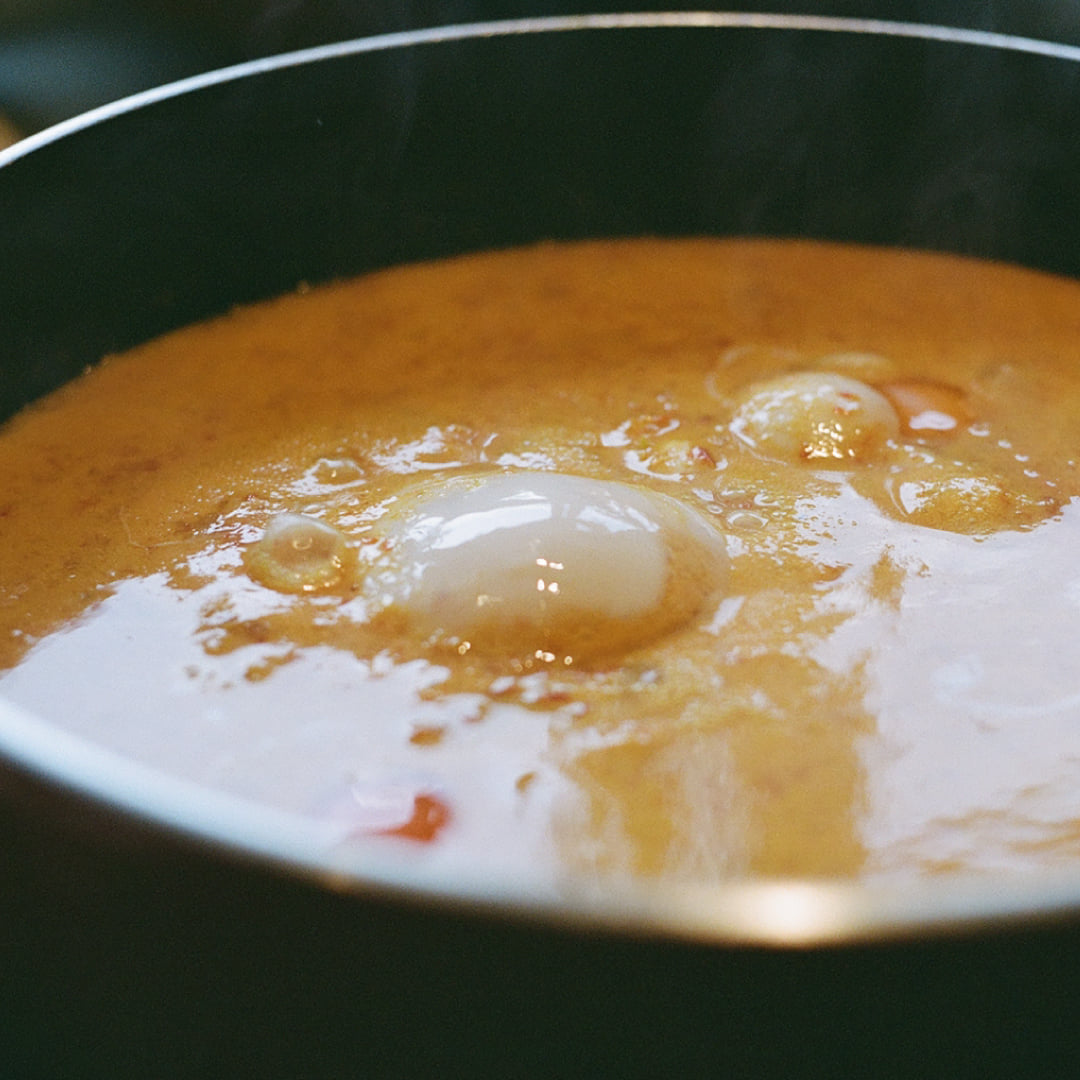 Here's a special tip from Tanya: if there is any lauk pindang left over, it can be kept in the fridge for up to a week, and will taste even better after reheating. Tanya shares that in the process of reheating the curry, she cracks an egg or two into the gravy, which makes it a quick and comforting meal for breakfast.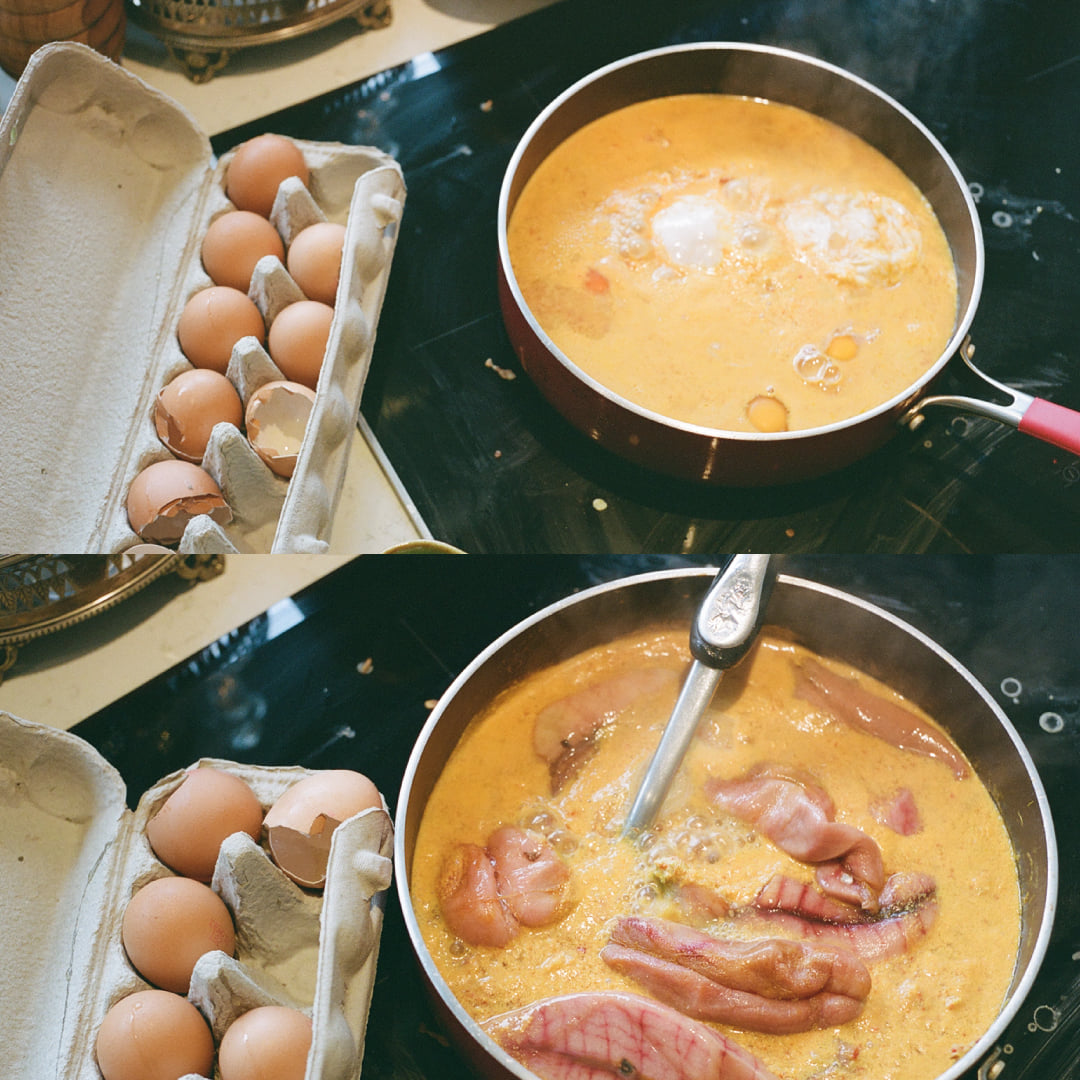 Here, she adds fish roe with the eggs, for added umami and taste.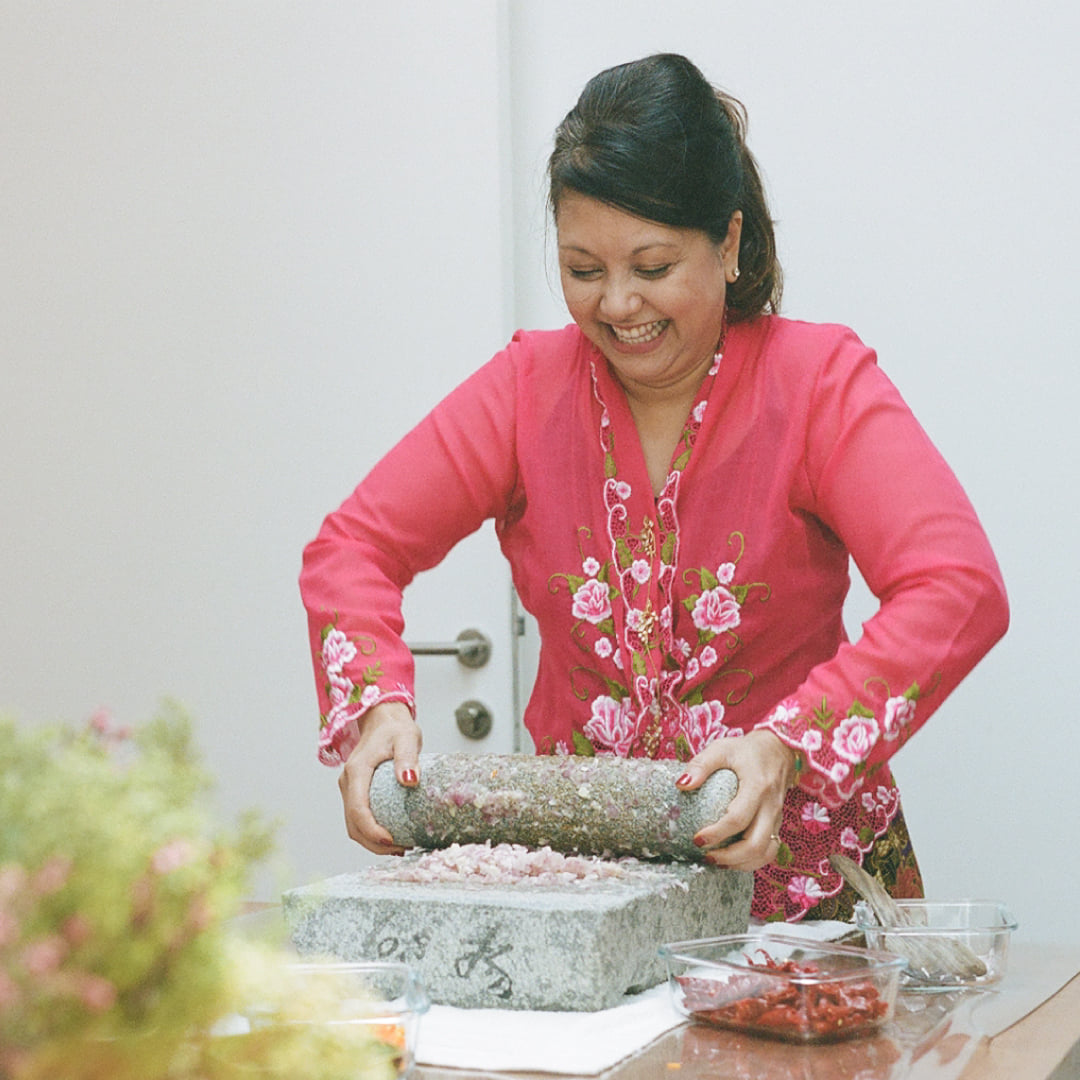 Tanya uses a rectangular granite slab and cylindrical grinder called a "batu giling" to grind ingredients for the rempah. "Giling" means "grind" in Malay.
Most people are more familiar with the stone mortar and pestle called "batu lesong", which was commonly found in households in the past. Tanya admits that she is a klutz with the batu giling, and her technique is nothing like her Aunty Berat's, who was extremely skilled with it.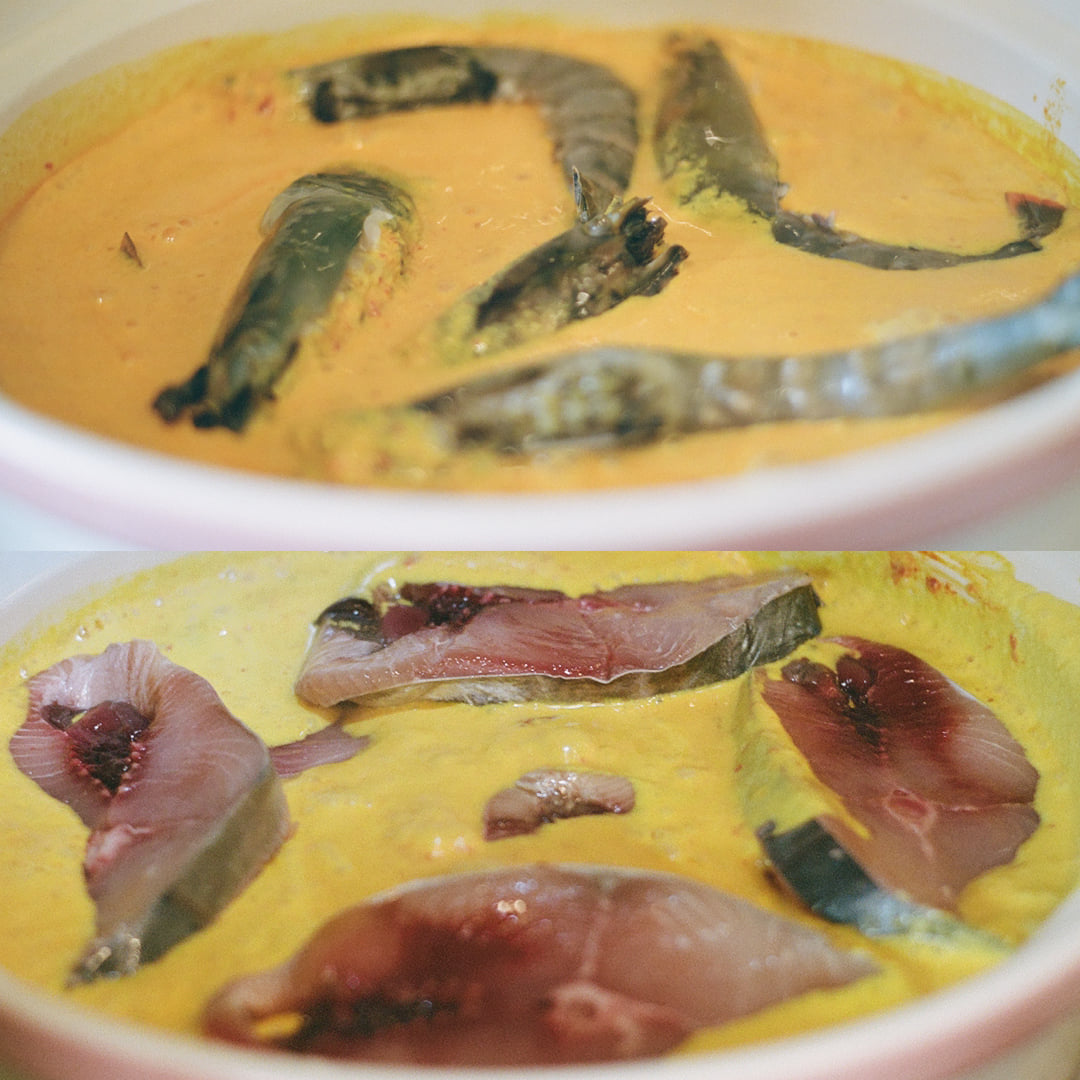 Tanya shares 4 different renditions of lauk pindang. All use the same rempah base, but are cooked with different ingredients – ikan tenggiri (Spanish mackerel), geragau (krill), prawns, or salted fish. The dish is customised for different guests and occasions. If the dish is served to children, she doesn't add fish with tiny bones, like ikan batang.
Tanya's cousin Krishnan shares that when his mother cooks the dish for Deepavali, the pindang is usually made with prawns. It's constantly re-heated for the 30–40 guests that visit throughout the day. The prawns work better than fish, which tend to disintegrate.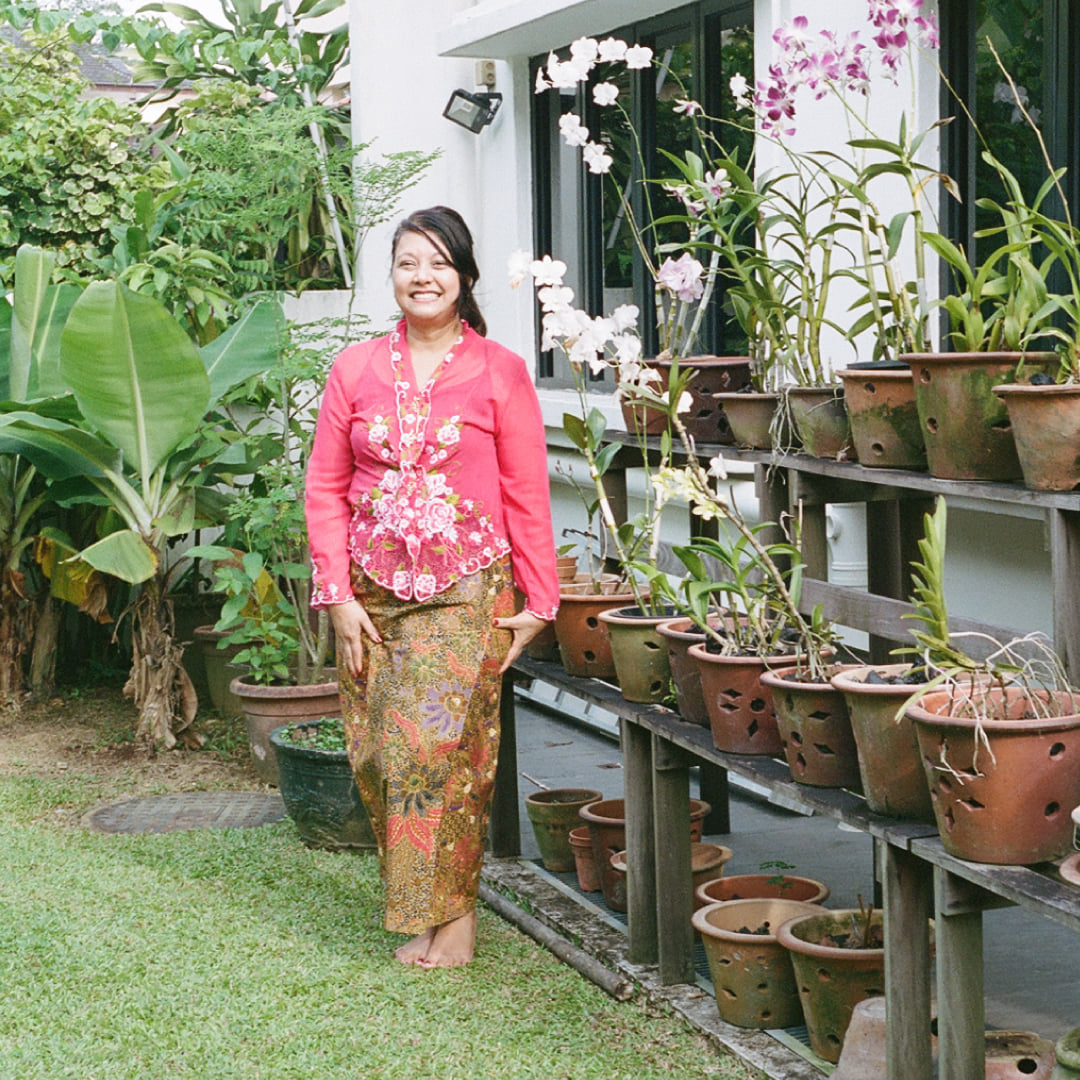 Tanya shares that her Aunty Berat was the one that took care of her after school and taught her to cook. She remembers coming home from school and watching Aunty Berat cook the pindang – everything always tasted so delicious, and she made it look effortless. Aunty Berat made her rempah using a batu giling. Till today, the rhythmic pounding and grinding of spices never fails to remind Tanya of her Aunty.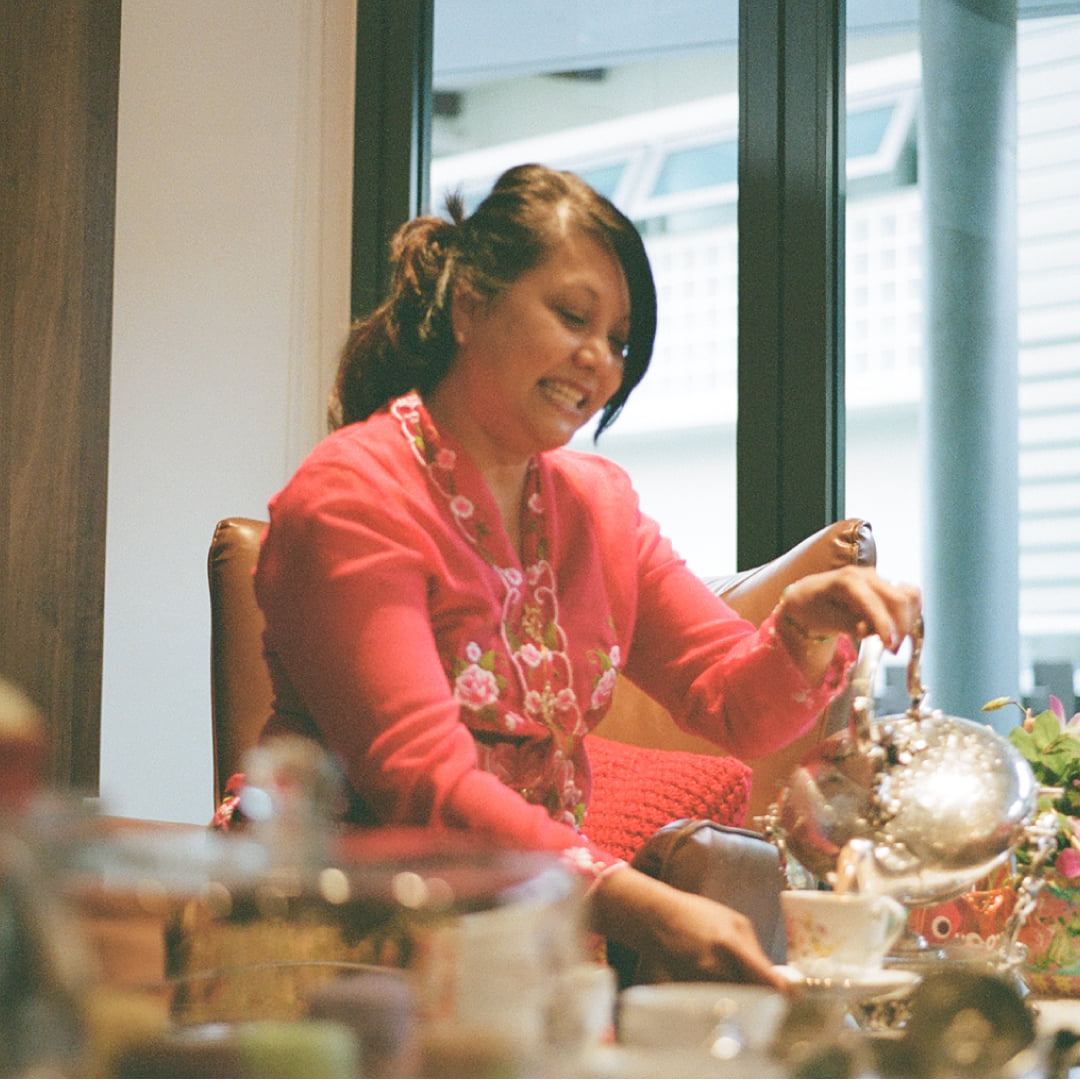 When Tanya learned how to cook the pindang, her Aunty Berat would share the measurements of her recipes by "agak agak" ("estimation" in Malay). Tanya came up with a system of using balls as an indicator. So she would say "a golf ball size of", or "a tennis ball of" whatever ingredient was required.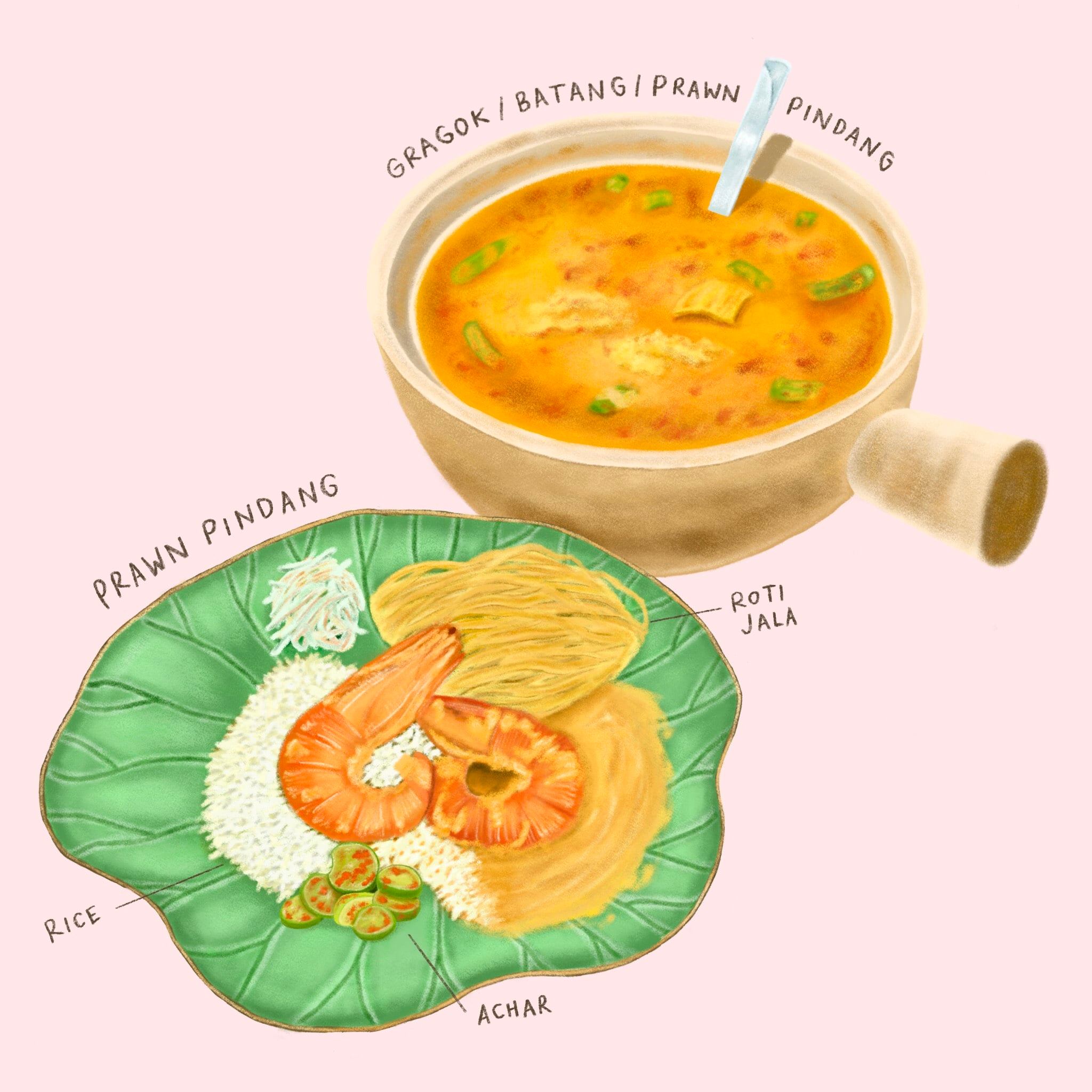 Here is Tanya's pindang recipe! Don't forget to tag us @peranakanmuseum if you decide to try your hand at making them!
Rempah Ingredients and Steps
4–6 sticks of lemongrass (use 6 if the lemongrass is small)
15 large shallots
2 cloves garlic
1/2 red chilli
1 tablespoon ground fresh turmeric
2 tablespoons of chilli paste (note: to make from scratch take 15 dried chillies washed and seeds removed, soak in hot water until soft, then blend. Alternatively, you can use bought dried chilli paste (chilli boh) but note that it might contain vinegar)
Blend or pound the ingredients until smooth.
Other Ingredients
1kg of ikan tenggiri (Spanish mackerel)
2 golf ball-size portions of assam (tamarind) (or 1.5 tablespoons of concentrated tamarind paste)
4 cups of light coconut milk
1 cup of thick coconut milk
Salt to taste
Instructions:
It's important to note that the rempah for this dish is not fried. It's boiled in coconut milk and tamarind. It's best to use a clay pot, as Tanya shares that curries always taste better when cooked with an earthenware pot.
Add the coconut milk into the pot and bring to the boil. Add the rempah paste. Add the tamarind juice or paste. Boil ingredients together for 20 mins until they no longer taste raw.
Add the fish and stop stirring, as this will break up the meat. Once the fish is cooked through, the dish is ready. Serve with roti jala, rice, or sliced baguette.
Variations
Geragau pindang:
1kg of geragau (krill)
Wash thoroughly to remove grit and sand, then cook in the same way as above; geragau to be added at the end.
Prawn pindang:
1kg of large prawns (shell on)
Prepare the prawns by slicing the legs off, snipping the tail, and trimming the head. The veins can be left in. Cook in the same way as above; prawns to be added at the end.
Salted fish pindang:
1 packet of dried salted fish (ikan kurau)
Long beans
Open the packet of salted fish and cut into squares. Soak in water. No additional salt needs to be used with this dish. Cut and clean the long beans. Cook in the same way as above, salted fish and long beans to be added at the end.