Aunty Kamala's Pulut Inti and Tepung Gomak
Recipes and Stories / November 10, 2021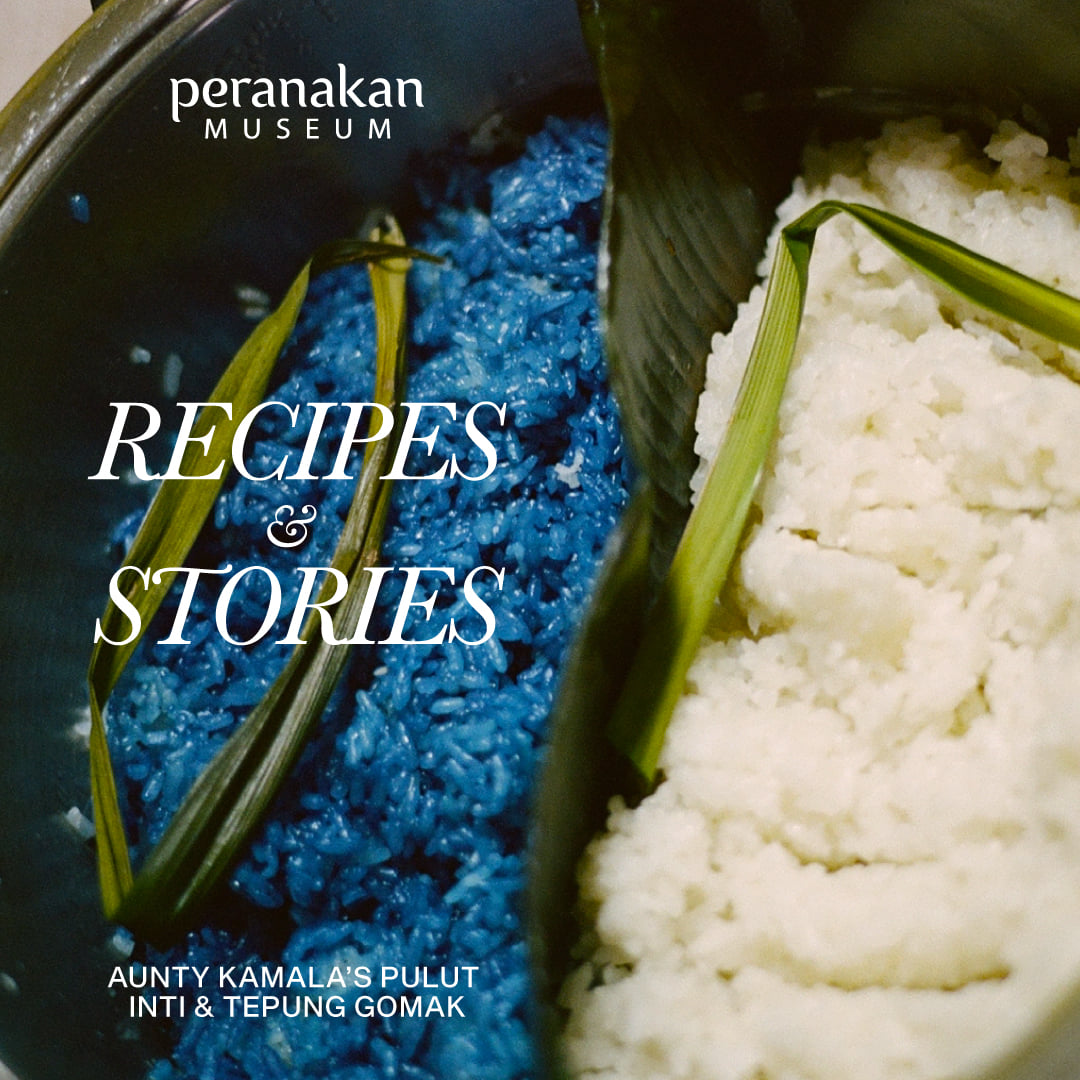 This week on Recipes & Stories, we feature two delicious dessert recipes, for pulut inti and tepung gomak, kindly shared by Indian Peranakan home chefs Aunty Kamala and her daughter Purnima, who are of Chitty Melakan descent.
Pulut inti is a popular dessert made with sweet glutinous rice steamed with coconut milk, and topped with coconut filling soaked in gula melaka. This recipe was handed down by Aunty Kamala's mother, who learnt it from her mother.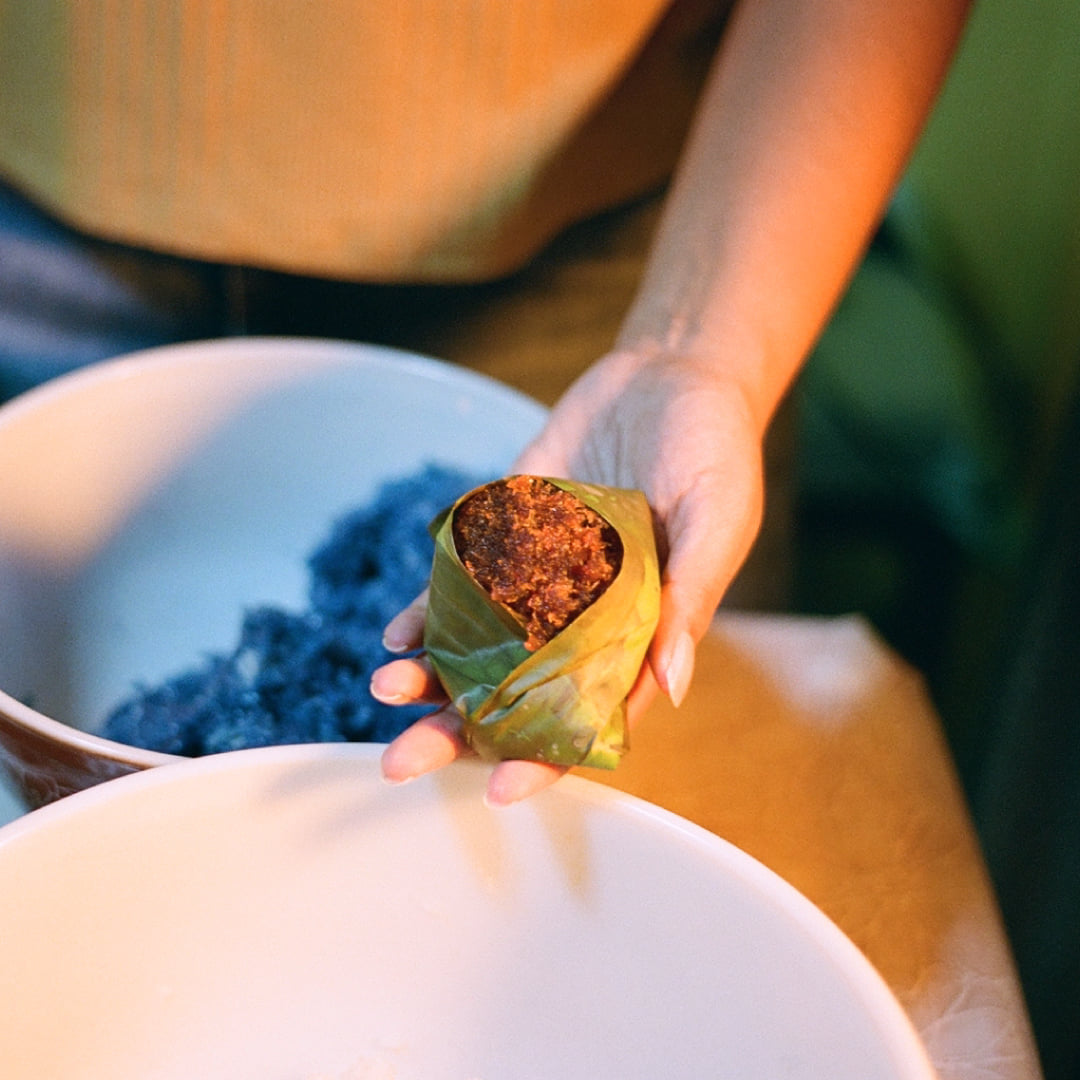 Aunty Kamala makes this dessert for festival prayers and during the anniversary of her grandmother's passing. She prepares them at home, and brings them to the temple to be shared and given out to different families.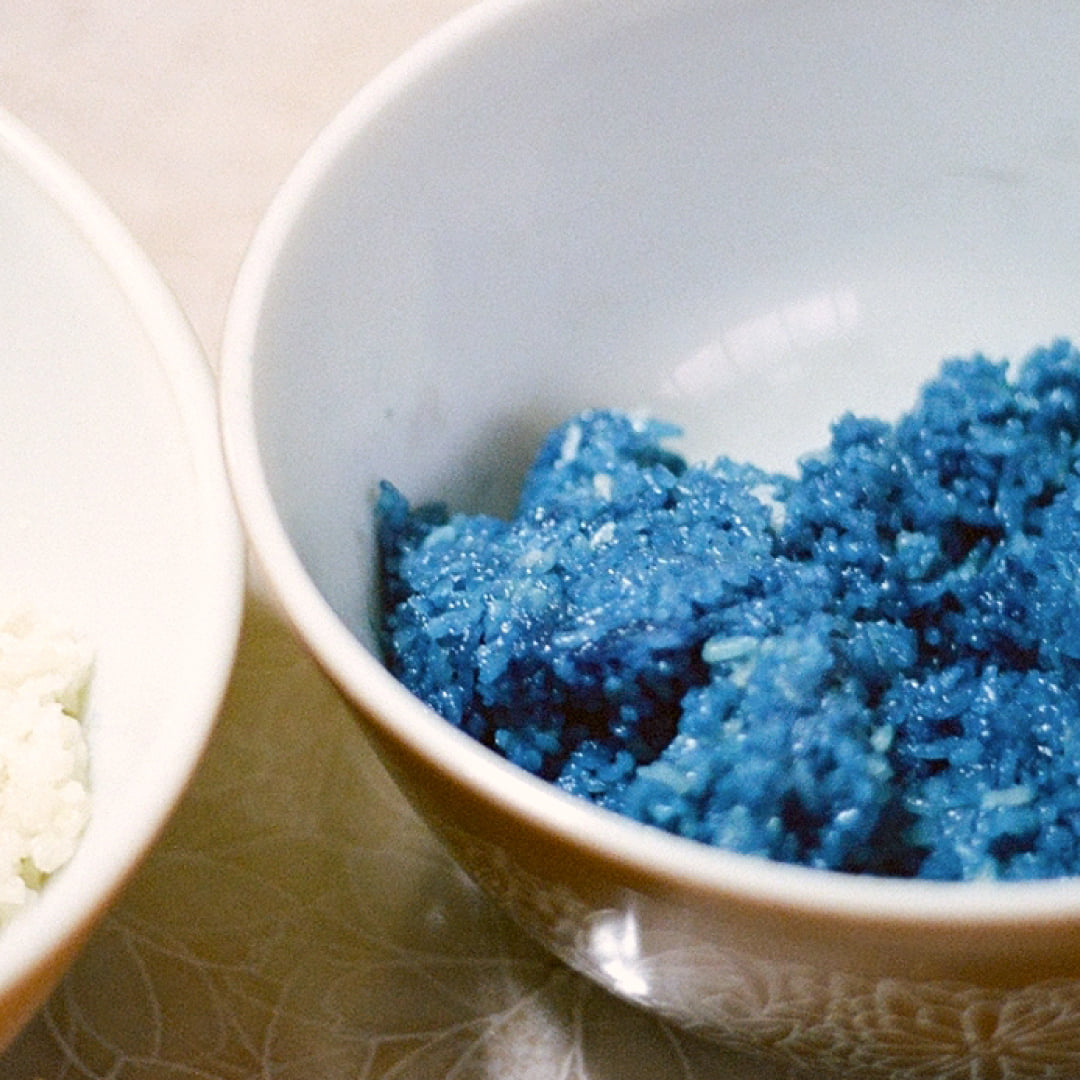 The word "pulut" means glutinous rice in Malay, and "inti" translates to filling. This humble dessert may look unassuming, but it packs a wondrous balance of different flavours – sweet, salty, and creamy. The pulut component is the cornerstone of many Peranakan desserts, and a lot of time and attention is paid to perfecting it.
Aunty Kamala recalls that during her mother's time, a traditional steam pot made of wood was used for cooking, and it would perfume steamed rice made in it with a beautiful woody aroma.
Her mother took good care of the wood steamer – she repaired it when necessary, and used it for a very long time. Many years after her mother had passed, the wood steamer rotted and they had to discard it. Aunty Kamala still thinks of that wooden pot and its wonderful woody scent, till today.
The sweet coconut filling ("inti") is an important aspect of the dessert. Aunty Kamala strongly recommends buying freshly grated coconut from the market, and requesting for young coconuts shavings, as it provides a softer texture to the filling.
Aunty Kamala shares that in the past, there were no machines available so they had to grate coconut by hand. One of her fondest memories was sitting in her kitchen, grating coconuts with her mother and siblings. Collecting coconut milk was also a tedious process – they had to squeeze the milk from the flesh by hand. She remembers being impressed by her mother's strength. She had big hands, and could do most of the work easily.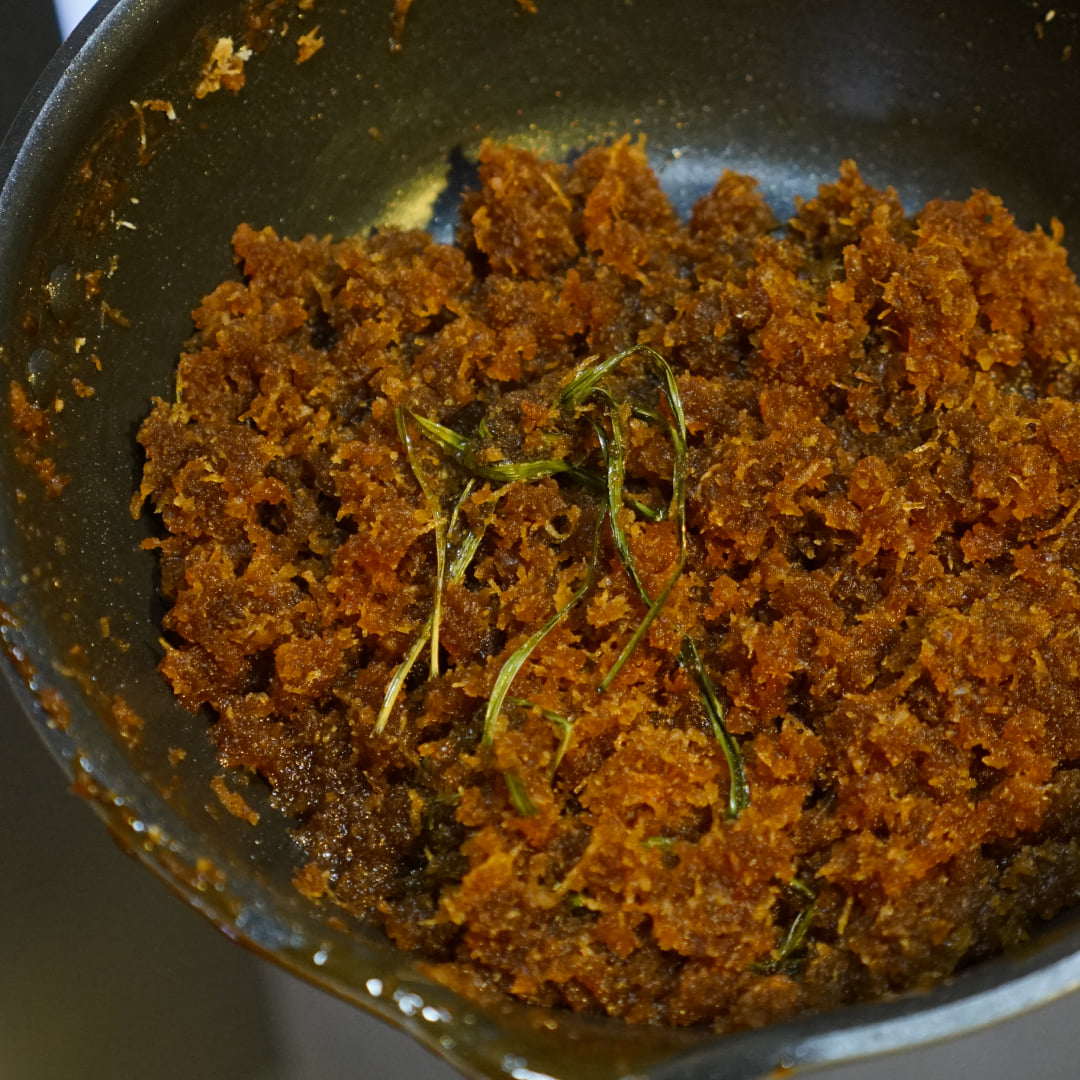 To make the filling, coconut shavings have to be cooked with generous amounts of gula melaka, coconut cream, and pandan leaves. The mixture needs to be stirred constantly to keep it from burning, and the finished result should be sticky and glossy. Try not to eat it all at one go!
As this coconut filling ("inti") is versatile and can be used for a wide range of other desserts, Aunty Kamala shares that she pre-makes a lot of it, and stores portions in the freezer for up to a month. When required, she cooks the frozen inti over a wok to reheat.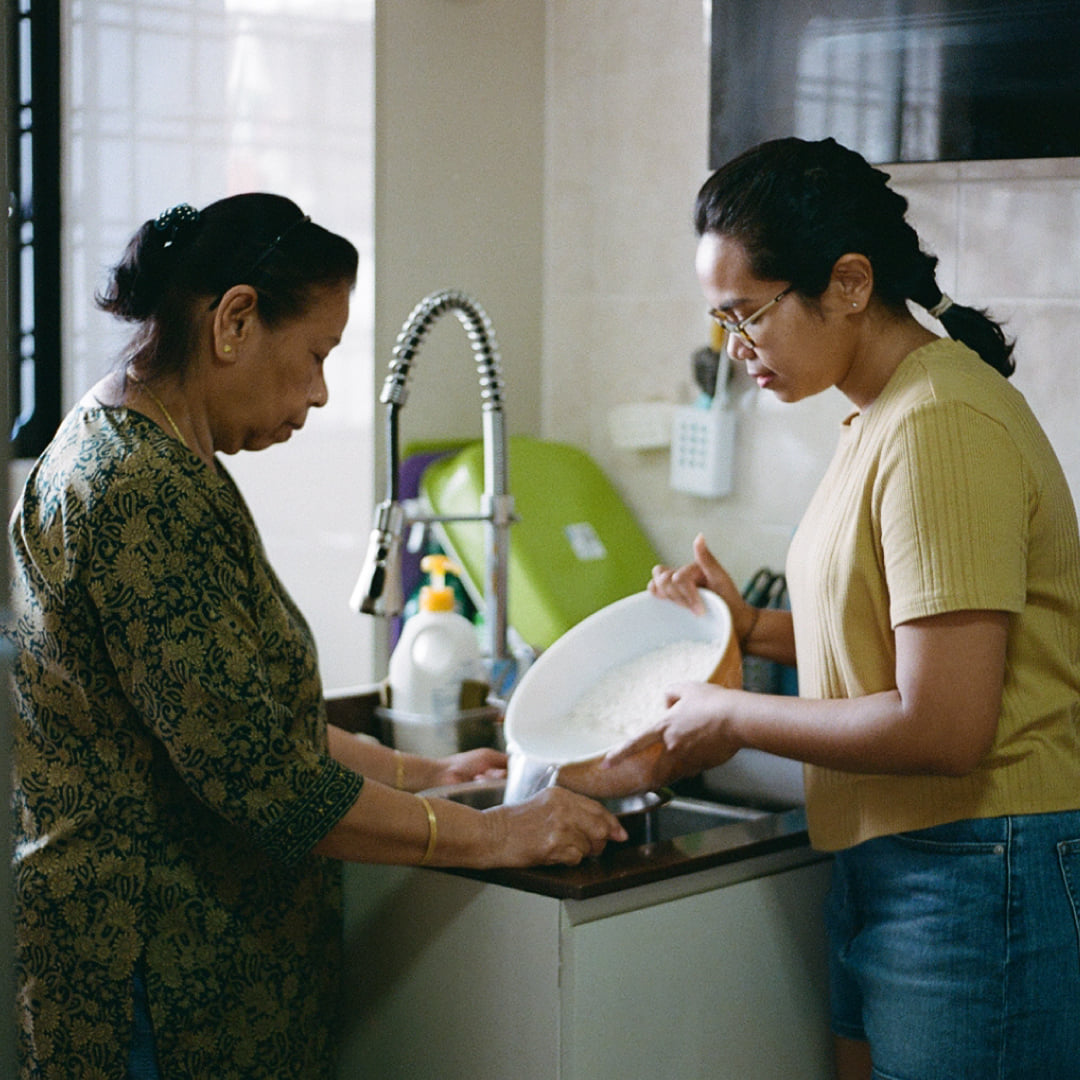 Aunty Kamala's family came from Kampung Gajah Berang in Malacca, and she is the oldest of her 9 siblings. Further back, her father's family came from Sri Lanka and her mother's family has ancestry in India and Burma.
She speaks Baba Malay and Tamil. Her daughter Purnima only knows a bit of Baba Malay, enough to get by, but wishes she could speak it fluently like her mother and her mother's siblings.
Purnima remembers her grandmother as a very generous person – even though she had just enough to feed all ten of her children, she would never turn away anyone who came to visit and would made sure they were well fed before they left. She held on to the philosophy that one should always feed their guest first before they fed themselves.
Aunty Kamala and her siblings started learning to cook at the age of 10 or 12 from their mother, who was particularly strict with them. After years of following her mother's recipes, she mentions that she enjoys tweaking them to make them her own and to suit her own taste.
Purnima shares that her mother is the only one in her family that knows all of her grandmother's recipes. Therefore, she wanted to start a project to collect and record them with the exact measurements before they are lost forever. She explains how this written recipe collection will come in handy for her if she ever wants to re-create these dishes, especially since her mother could get quite experimental with her cooking.
Ingredients and Steps
Blue colouring:
Boil 1 cup of butterfly pea flower in water until the colour becomes dark blue
Drain water with sieve
Gula melaka filling (Inti):
700g freshly desiccated coconut
500g gula melaka
3 pandan Leaves
2 tablespoons of coconut cream
Boil one cup of water, gula melaka and salt until the gula melaka is dissolved.
Add pandan leaves and coconut cream, and boil slowly for 15-20 minutes
Keep stirring to prevent it from burning.
When mixture becomes sticky and shiny, add desiccated coconut and mix well.
Glutinous Rice (Pulut):
750g of white glutinous rice
200ml coconut cream
1 cup butterfly pea flower
2 pandan leaves
Wash the glutinous rice 3 times, and soak in 1 litre of water for 3 hours.
Steam glutinous rice with pandan leaves (cut into small pieces) until the rice is soft.
Split the rice into two portions.
Prepare coconut cream and add salt to taste, split into two portions as well.
Add butterfly pea colouring to one portion of the coconut milk and mix.
Add the two rice portions to the two different coconut milk portions and mix well.
Allow both rice portions to soak up the coconut milk for approximately 10 minutes.
Place glutinous rice (blue portion and white portion) back into the steamer and steam for another 20-30 minutes.
Assembly:
Prepare banana leaves in strips that are 10cm in width.
Remove pandan leaves from both glutinous rice mixtures.
Scoop one spoonful of white glutinous rice onto banana leaf, and add a second layer of blue glutinous rice.
Top it off with the gula melaka coconut mixture and wrap banana leaf to close.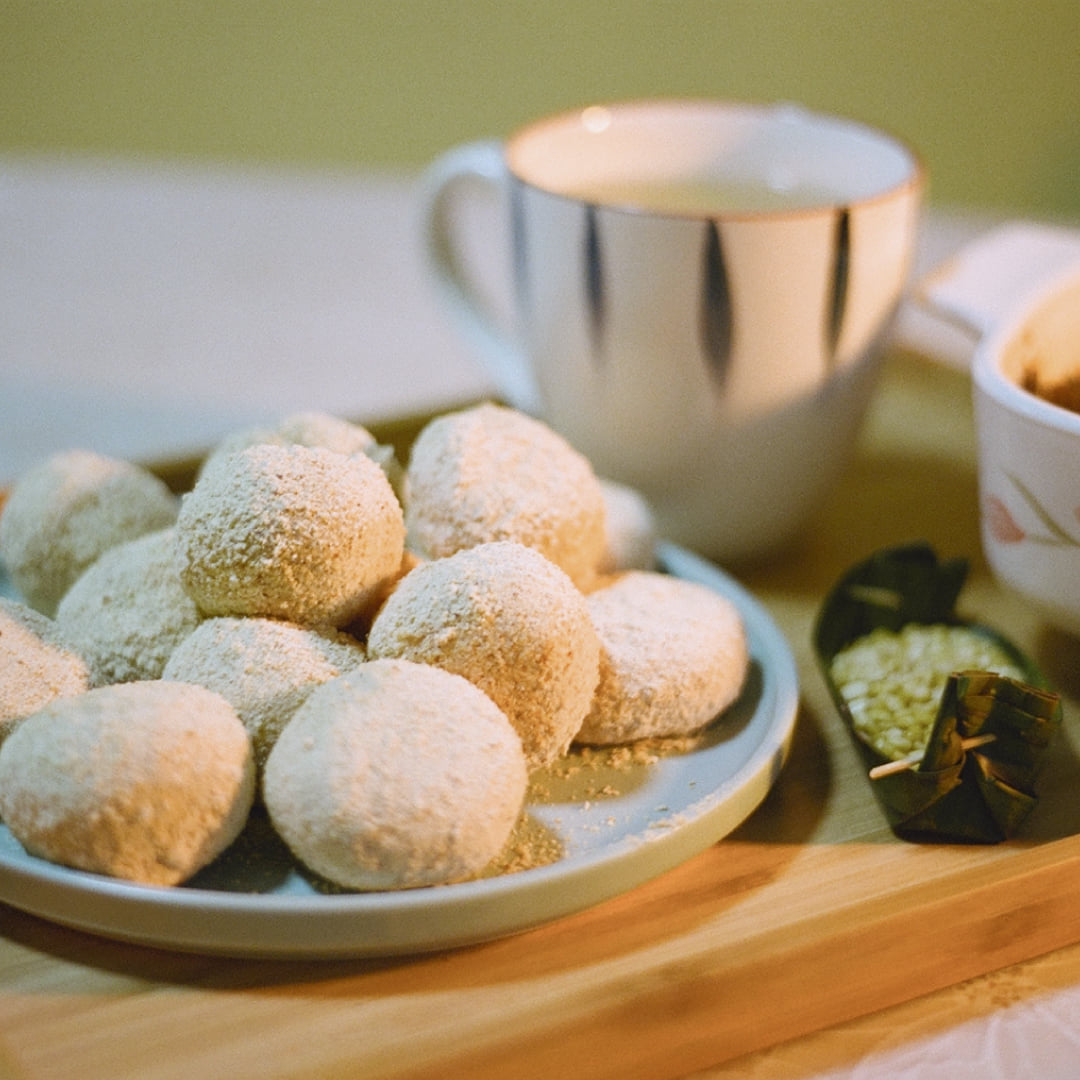 Aunty Kamala and Purnima share another traditional dessert called tepung gomak. Their Chitty Melakan version evolved from a recipe that had passed down from various relatives and neighbours. This dessert is made with rice flour and filled with sweet coconut filling, then coated with mung bean flour. Aunty Kamala makes her version special by mixing sweet potato into the dough.
It's difficult to document old Chitty Melakan recipes like this, as home cooks in the past were used to estimating ingredients by hand. Recipes were also often passed down only verbally.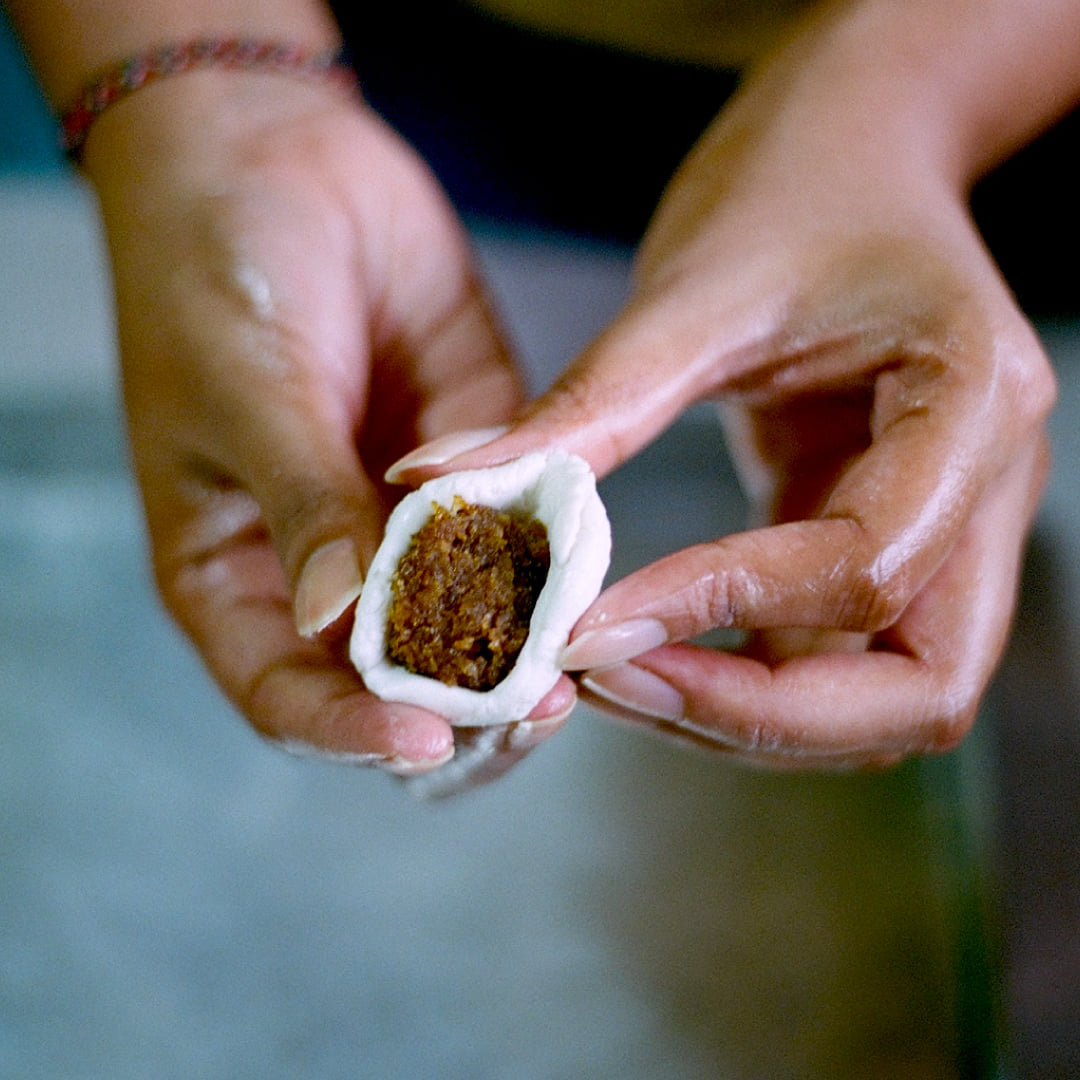 Aunty Kamala still cooks for the family, but these days she often lets Purnima take over in the kitchen. She jokes about how Purnima studies all the time so she likes to encourage her to do something else once in a while. On Sundays, they spend time together, cooking up a storm in the kitchen.
When asked if Purnima enjoys these cooking sessions with her mother, she mentions that it has turned out better than she expected. She initially thought she would get yelled at all the time, but that hasn't happened so far. It has been a pretty good experience for her, and now she finds herself looking forward to Sundays!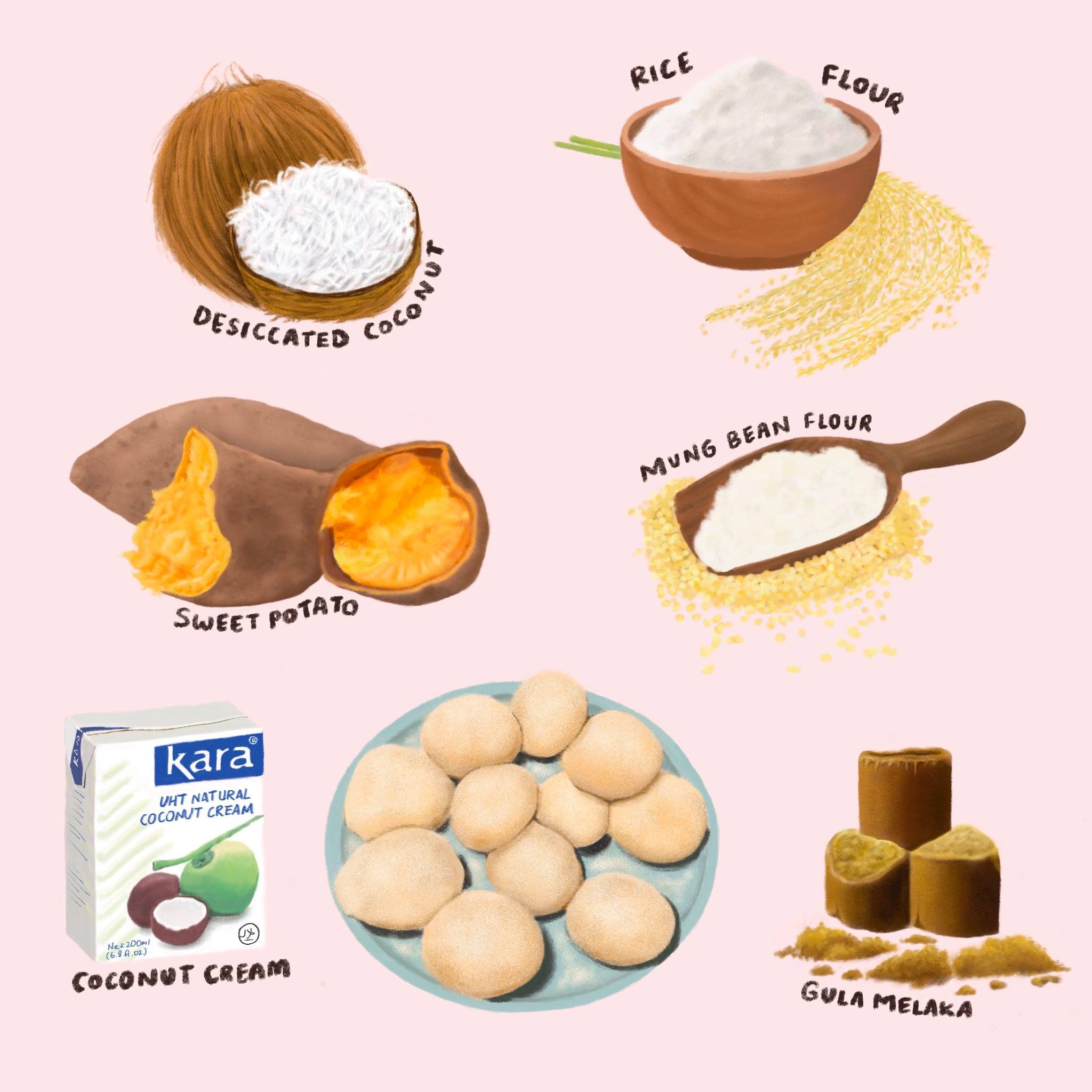 Here is Aunty Kamala's tepung gomak recipe!
Ingredients
300g green beans (without skin)
300g glutinous rice
30-40g sweet potato, skinned and boiled
1/2 cup water
2 tablespoons of coconut milk
Salt to taste
Gula melaka filling (Inti): (Refer to above for recipe)
Steps
Blend the sweet potato with water, coconut milk, and salt.
Transfer to a pan and let it boil. This softens the dough.
Pour the glutinous rice flour onto a clean surface. Make a well in the flour and add the sweet potato paste to it, bit by bit until it forms a dough. Divide the dough equally into small balls.
Prepare the gula melaka filling (refer to recipe in the previous post).
Take a bit of the dough and roll the inti within it.
In a pot of boiling water, cook the tepung gomak. You can tell if it is cooked once the balls rise to the surface. Remove it and let it cool on an oiled plate.
Prepare the green bean powder: Dry fry the green beans without skin until it turns brown, then grind the beans until fine, powdery consistency.
Roll the cooled tepung gomak in the green bean flour and serve